OCTOBER 2011

29th October 2011 - New clinical trial
CLINICAL TRIAL OF DIABETIC DRUG FOR PARKINSON'S DISEASE
A drug normally used for diabetes, called Pioglitazone, is to undergo clinical trials in people with early Parkinsonís Disease. The aim is to determine whether it can slow clinical decline over a 44 week period. Pioglitazone is being given in 15mg and 45 mg dosages. For full details of the clinical trials go to PDtrials and ClinicalTrials.gov.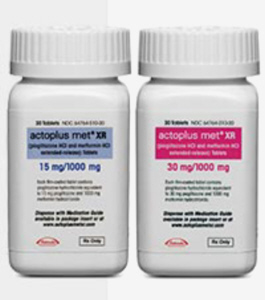 Pioglitazone is an FDA approved drug for the treatment of diabetes. It has not been previously studied in people with Parkinson's Disease. Pioglitazone is marketed in tablet form as Actoplus, Duetact, and Actos. It acts primarily by decreasing insulin resistance. For more information go to Pioglitazone. Neither source for the clinical trials provides a rationale for the use of Pioglitazone in Parkinson's Disease. Insulin resistance has never been shown to cause Parkinson's Disease. Preliminary studies have been carried out using Pioglitazone on animals concerning Parkinson's Disease. However, the circumstances of those studies are not comparable with Parkinson's Disease in humans. In order to refer to this article on its own click here.
28th October 2011 - New book
MOVEMENT DISORDERS 4
Anthony H.V.Schapira, Anthony E.T.Lang, Stanley Fahn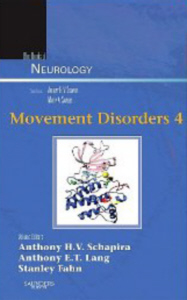 Publisher's description : Movement Disorders 4, the newest volume in the Blue Books in Neurology series provides you with access to practical, clinical guidance on the diagnosis and pharmacologic treatment on the full range of movement disorders. Emphasizes the vast array of pharmacologic therapeutics, backed by clinical trials of the past 15 years to help you determine the best and most up-to-date drug therapy. Presents the surgical management of Parkinson's Disease to help you determine when to recommend surgery and for which patients. Includes comprehensive information on Parkinson's so you can better diagnose and treat patients. Offers more clinical details on tremors, differentiating between PD and other movement disorders. Click here for more details. For more books concerning Parkinson's Disease go to Parkinson's Disease Books.
19th October 2011 - News release
AZILECT FAILS TO SLOW PARKINSON'S DISEASE PROGRESSION
In It has been claimed by the FDA (the U.S. drug administrators) that Azilect fails to slow the progression of Parkinson's Disease. Azilect is the brand name of Rasagiline, which is an MAO-B inhibitor. MAO-B inhibitors increase dopamine levels by inhibiting Monoamine Oxidase B, which is an enzyme that metabolizes dopamine. Rasagiline is used either on its own or alongside other methods. For more information go to Azilect.
The manufacturer, TEVA, claimed that the 1 mg dose of rasagiline (in the ADAGIO clinical study) and the 2 mg dose of rasagiline (in the TEMPO clinical study) could demonstrate a disease modifying benefit in patients with early untreated idiopathic Parkinsonís disease. However, the FDA's analyses "do not support the claim for a disease modifying benefit associated with either dose of rasagiline based on the primary protocol specified analyses or when sensitivity / secondary analyses are applied to the study data sets." For more information go to the FDA report.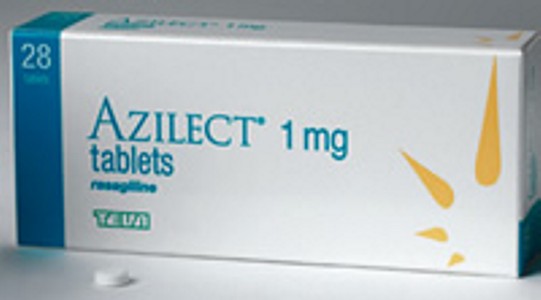 In fifteen previous studies Rasagiline caused a moderate reduction in symptoms. It caused a moderate reduction in "off" time in four of those studies. The treatment effect was still evident six weeks after drug discontinuation. One of those studies found Rasagiline to be more effective than Selegiline, which is another MAO-B inhibitor. However, these studies did not demonstrate any slowing of Parkinson's Disease progression. Rasagiline caused infrequent cardiovascular or psychiatric side effects. In order to refer to this article on its own click here.

16th Octo

ber 2011 - New research
PRAMIPEXOLE CLINICAL TRIAL RESULTS
Neurology [2011] 77 (8) : 759-766 (W.Poewe, O.Rascol, P.Barone, R.A.Hauser, Y.Mizuno, M.Haaksma, L.Salin, N.Juhel, A.H.Schapira) Complete abstract

Neurology [2011] 77 (8) : 767-774 (A.H.Schapira, P.Barone, R.A.Hauser, Y.Mizuno, O.Rascol, M.Busse, L.Salin, N.Juhel, W.Poewe) Complete abstract

Clinical trials compared the clinical efficacy in Parkinson's Disease of the more convenient to use extended-release (ER) formulation of the dopamine agonist pramipexole, and the standard immediate-release (IR) pramipexole. Pramipexole is also known as Mirapex, Mirapexin, or Sifrol. For more information go to Mirapex and Mirapex ER. In the first clinical trial, both forms of pramipexole were more effective than a placebo. Both formulations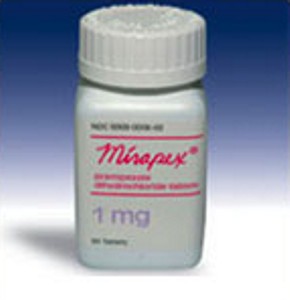 (extended release and immediate release) were similarly effective in Parkinson's Disease and were equally tolerated. In the second clinical trial, both forms of pramipexole were more effective than a placebo. Off times decreased by up to 150 minutes per day, but a placebo achieved an 84 minute reduction in off times, thereby lessening the actual reduction in off time to just over an hour per day. Immediate release pramipexole was slightly more effective than extended-release pramipexole, but otherwise, extended-release pramipexole could be readily substituted for immediate-release pramipexole. In order to refer to this article on its own click here.

13th Octo

ber 2011 - New product
WIRELESS SENSOR FOR MEASURING PARKINSON'S DISEASE TREMOR
Kinesia HomeView device has been developed to assess Parkinson's Disease tremor. It has been approved for sale in the U.S.A. and several other countries. It combines wireless sensors and a touch-screen tablet to help patients and physicians assess whether medications or neurostimulation therapy are working properly. The patient takes home a motion sensor worn on the finger, plus a touch-screen tablet that includes videos explaining how to take Unified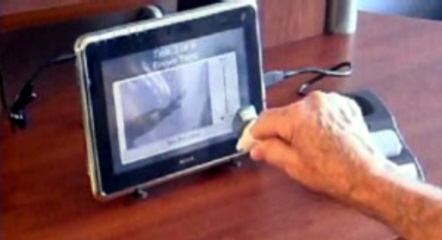 Parkinsonís Disease Rating Scale tests. The tablet gives reminders to take the test several times a day. It measures tremors and, with a built-in camera, records videos of patients whilst taking the test. Patients can keep a diary of their symptoms on the tablet. Via a Web portal, physicians get a report from the system showing the types of tremors and the time of day of each test. Users can also watch videos of the tremors. For a video of the procedure click here. For more information go to Kinesia. In order to refer to this article on its own click here.

9th October 2011 - History
LEONARDO DA VINCI'S DESCRIPTIONS OF PARKINSON'S DISEASE
The Italian artist, engineer and scientist Leonardo da Vinci (1452-1519) also studied anatomy, physiology and medicine. Leonardo da Vinci kept secret notebooks in which he wrote and sketched his ideas and observations, in handwriting that only he could read. So keen was he to study the human body that he went out at night to dissect human corpses. For more information go to Leonardo da Vinci. Over 300 years before James Parkinson formally described Parkinson's Disease, Leonardo da Vinci saw people whose symptoms coincided with those seen in Parkinson's Disease. Leonardo wrote in his notebooks that "you will see.....those who.....move their trembling parts, such as their heads or hands without permission of the soul; (the) soul with all its forces cannot prevent these parts from trembling." In a translation of Da Vinci's notebooks "The movements of paralytics of those benumbed by cold, whose head and members move without control of the soul, who cannot stop the movements." The combination of difficulty with voluntary movement ("paraletici") and tremor ("tremanti') leave little doubt of the diagnosis of Parkinson's Disease. At the end of his life Leonardo was unable to paint due to the loss of control of movement in his hands. It has been suggested that, by then, Leonardo da Vinci had Parkinson's Disease himself. Due to most of his notebooks remaining secret for centuries, Leonardo did not receive any credit for contributing to the recognition of Parkinson's Disease. In order to refer to this article on its own click here.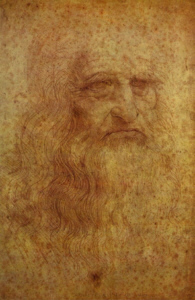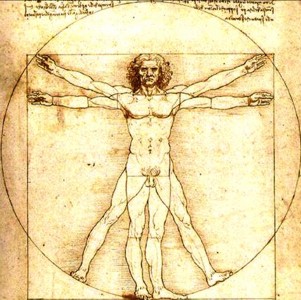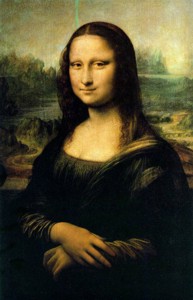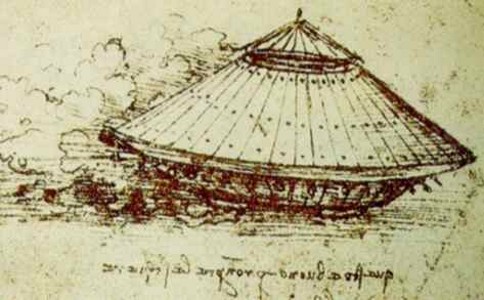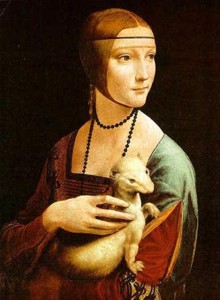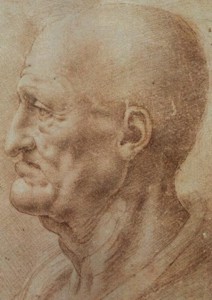 9th October 2011 - News release
WORLD'S BEST EVER SQUASH PLAYER DIAGNOSED WITH PARKINSON'S DISEASE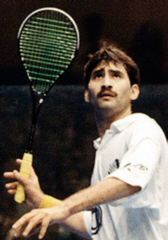 Jansher Khan, who is arguably the world's best ever squash player has been diagnosed with Parkinson's Disease at the age of 42, following a series of tests. During his career, Jansher Khan won the World Open a record eight times, and the British Open six times. Jansher Khan officially announced his retirement from squash in 2001. He had won 99 professional titles and was ranked the World No.1 for over six years. Jansher Khan has been showing signs of a mystery illness since last year. His hands would start shaking suddenly. Sometimes he used to act strangely as he his mind went out of control. For more information go to the News release.
8th October 2011 - New research
THE EFFECT OF BALANCE TRAINING ON PARKINSON'S DISEASE
Neurorehabil Neural Repair. [2010] 24 (9) : 826-834 (N.Smania, E.Corato, M.Tinazzi, C.Stanzani, A.Fiaschi, P.Girardi, M.Gandolfi) Complete abstract
Postural instability is a disabling sign of Parkinson's Disease that is not easily amenable to treatment with medication. The effect of balance training on postural instability was evaluated in people with Parkinson's Disease. People with postural instability were randomly assigned to balance training or for general physical exercises. Each person received 21 treatment sessions of 50 minutes each. People were evaluated using the following scales : Berg Balance Scale (BBS), Activities-Specific Balance Confidence Scale (ABC), postural transfer test, self-destabilization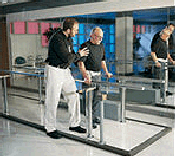 of the centre of foot pressure test, number of falls, Unified Parkinson's Disease Rating Scale (UPDRS), modified Hoehn and Yahr (H&Y) Scale, and Geriatric Depression Scale (GDS). Those undergoing balance training showed improvements in all outcome measures, except for the UPDRS and the H&Y scale. No significant changes in performance were observed in those undergoing general physical exercise, showing that a program of balance training can improve postural instability in people with Parkinson's Disease. In order to refer to this article on its own click here.