13th Octo

ber 2011 - New product
WIRELESS SENSOR FOR MEASURING PARKINSON'S DISEASE TREMOR
Kinesia HomeView device has been developed to assess Parkinson's Disease tremor. It has been approved for sale in the U.S.A. and several other countries. It combines wireless sensors and a touch-screen tablet to help patients and physicians assess whether medications or neurostimulation therapy are working properly. The patient takes home a motion sensor worn on the finger, plus a touch-screen tablet that includes videos explaining how to take Unified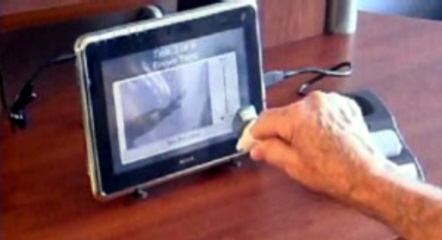 Parkinsonís Disease Rating Scale tests. The tablet gives reminders to take the test several times a day. It measures tremors and, with a built-in camera, records videos of patients whilst taking the test. Patients can keep a diary of their symptoms on the tablet. Via a Web portal, physicians get a report from the system showing the types of tremors and the time of day of each test. Users can also watch videos of the tremors. For a video of the procedure click here. For more information go to Kinesia.

For more current news go to Parkinson's Disease News.

E-MAIL NOTIFICATION : If you would like to be notified by e-mail when any new research, news reports, new books, or new resources are added to Parkinson's Disease News, please merely e-mail [email protected] with the message "subscribe". No form of identity is required. E-mail addresses are not used for any other purpose.