8th October 2011 - New research
THE EFFECT OF BALANCE TRAINING ON PARKINSON'S DISEASE
Neurorehabil Neural Repair. [2010] 24 (9) : 826-834 (N.Smania, E.Corato, M.Tinazzi, C.Stanzani, A.Fiaschi, P.Girardi, M.Gandolfi) Complete abstract
Postural instability is a disabling sign of Parkinson's Disease that is not easily amenable to treatment with medication. The effect of balance training on postural instability was evaluated in people with Parkinson's Disease. People with postural instability were randomly assigned to balance training or for general physical exercises. Each person received 21 treatment sessions of 50 minutes each. People were evaluated using the following scales : Berg Balance Scale (BBS), Activities-Specific Balance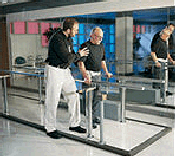 Confidence Scale (ABC), postural transfer test, self-destabilization of the centre of foot pressure test, number of falls, Unified Parkinson's Disease Rating Scale (UPDRS), modified Hoehn and Yahr (H&Y) Staging Scale, and Geriatric Depression Scale (GDS). At the end of treatment, those undergoing balance training showed significant improvements in all outcome measures, except for the UPDRS and the H&Y scale. No significant changes in performance were observed in those undergoing general physical exercise, showing that a program of balance training can improve postural instability in people with Parkinson's Disease.

For more current news go to Parkinson's Disease News.

E-MAIL NOTIFICATION : If you would like to be notified by e-mail when any new research, news reports, new books, or new resources are added to Parkinson's Disease News, please merely e-mail [email protected] with the message "subscribe". No form of identity is required. E-mail addresses are not used for any other purpose.