NOVEMBER 2009
26th November 2009 - New research
DOPAMINERGIC TRANSPLANTS FAIL IN PARKINSON'S DISEASE
Annals of Neurology [2009] 66 (5) : 591-596 (Olanow CW, Kordower JH, Lang AE, Obeso JA.) Complete abstract

For years, cell-based therapies that involve the transplantation of dopaminergic cells in to the brain have attracted considerable interest as possible treatments for Parkinson's Disease. However, all of the double-blind, sham-controlled, studies have failed to meet their hoped for efficacy. Transplantation of dopamine cells derived from the fetal mesencephalon is also associated with a potentially disabling form of dyskinesia that persists even after withdrawal of L-dopa.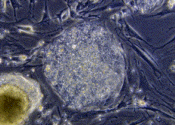 In addition, disability in advanced patients primarily results from features that are not primarily due to insufficient dopamine. These features are not adequately controlled with dopaminergic therapies and are thus unable to respond to dopaminergic transplants. Implanted dopaminergic neurons have also recently been found to contain Lewy bodies, which are signs of cell damage, suggesting that even after transplantation they are dysfunctional and may have been affected by the Parkinson's Disease process. Although stem cell therapies have been tried in Parkinson's Disease based on the claim that there is a massive loss of dopamine producing cells in Parkinson's Disease, not a single study has ever shown this to be true. In order to refer to this article on its own click here.
18th November 2009 - New research
THE EFFECT OF MOBILE PHONE USE ON PARKINSON'S DISEASE
Ugeskrift for laeger [2009] 171 (45) : 3268-3271 (SchŁz J, Waldemar G, Olsen JH, Johansen C.) Complete abstract
Researchers assessed the effect of the use of mobile phones on neurological disorders including Parkinson's Disease. It has long been suspected that mobile phones have a detrimental effect on the nervous system. In a huge study, they found that mobile phone use increased the likelihood of migraine and vertigo by 10% to 20%.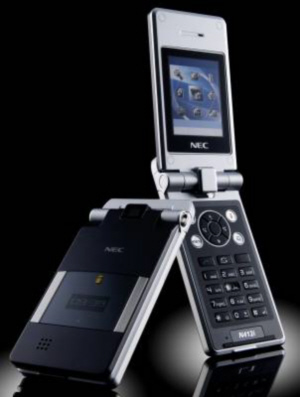 However, long term use of mobile phones actually reduced rather than increased the likelihood of Parkinson's Disease and dementia by 30% to 40%. The researchers offer no reason why this might be. Mobile phones emit electromagnetic radiation. The use of electromagnetic radiation has recently been introduced for the treatment of Parkinson's Disease. It involves the use of a low level electromagnetic field in order to lessen the symptoms. For more information go to Magnetic Therapy. If long term mobile phone use causes any lessening of Parkinson's Disease, given the similarity of their effects, mobile phone use is likely to be acting unintentionally by precisely the same means as magnetic therapy. In order to refer to this article on its own click here.
13th November 2009 - News release
MICHAEL J.FOX FOUNDATION FUNDS FOUR NEW APPROACHES FOR PARKINSON'S DISEASE
The Michael J.Fox Foundation has funded four novel approaches for dealing with problems caused by Parkinson's Disease. (1) Anders BjŲrklund is assessing the hypothesis that the brainís Serotonin system plays a role in dyskinesia, the excessive movements brought on by long-term dopamine replacement therapy. The team is initiating a pilot study of Eltoprazine, a medicine capable of blocking inappropriate release of dopamine from serotonin terminals.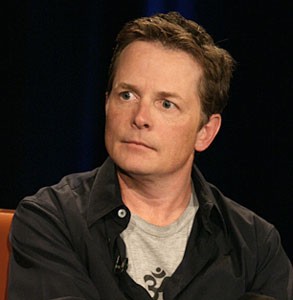 (2) Daniel Weintraub will conduct the first placebo-controlled trial of an agent to treat impulse control disorders associated with the use of dopamine agonists. Naltrexone, which blocks opioid receptors, is approved by the U.S. Food and Drug Administration (FDA) for the treatment of alcohol dependence. It has been shown to be beneficial for pathological gambling. (3) Alvaro Pascual-Leone and his colleagues will test the potential of non-invasive repetitive Transcranial magnetic stimulation in order to improve symptoms of Parkinsonís Disease. (4) Daniel Tarsy is investigating whether group singing can improve the decreased voice volume experienced by many people who have Parkinson's Disease. For more information go to the News release. In order to refer to this article on its own click here.
3rd November 2009 - News release
STEREOTACTIC RADIOSURGERY FOR PARKINSON'S DISEASE TREMORS
Stereotactic Radiosurgery (SRS) is claimed to offer a less invasive way to eliminate tremors caused by Parkinson's Disease than Deep Brain Stimulation (DBS) and Radiofrequency (RF) treatments, and is as effective, according to a long-term study. Stereotactic radiosurgery is a precise form of radiation therapy used primarily to treat tumors and other abnormalities of the brain.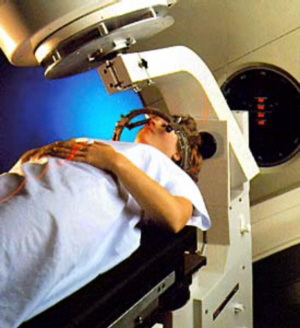 Stereotactic radiosurgery is a non-surgical procedure that delivers a single high-dose of precisely-targeted radiation using highly focused gamma-ray or x-ray beams that converge on the specific area or areas of the brain where the abnormality resides. For more information go to Stereotactic Surgery. In a long term study amongst hard-to-treat tremors caused by Parkinsonís Disease and Essential Tremors, 84% of patients had significant or complete resolution of tremors. In patients with Parkinsonís disease, 83% had near or complete tremor resolution, while those with Essential Tremor had 87% tremor resolution. For more information go to the News release. In order to refer to this article on its own click here.
2nd November 2009 - New book
THE MUHAMMAD ALI PARKINSON CENTER 100 QUESTIONS & ANSWERS ABOUT PARKINSON DISEASE
Abraham Lieberman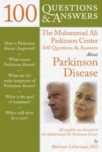 Publisher's description : Whether you're a newly diagnosed patient, or are a friend or relative of someone suffering from Parkinson Disease, this book offers help. The Muhammad Ali Parkinson Center 100 Questions & Answers About Parkinson Disease, Second Edition gives you authoritative, practical answers to your questions about treatment options, quality of life, and sources of support. Written by an internationally recognized expert on Parkinson Disease, this book is an invaluable resource for anyone coping with the physical and emotional turmoil of this devastating disease. All the books royalties are donated to the Muhammad Ali Parkinson Center. Click here for more details. For more books concerning Parkinson's Disease go to Parkinson's Disease Books.