AUGUST 2014
23rd August 2014 - New book
WINDOW OF OPPORTUNITY : LIVING WITH THE REALITY OF PARKINSON'S AND THE THREAT OF DEMENTIA
Kirk W.Hall
CLICK HERE

FOR A PRINTABLE OR WHITE BACKGROUND VERSION OF THIS ARTICLE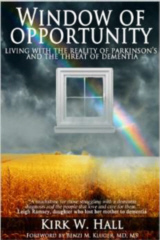 Publisher's description : Window of Opportunity is the story of one person's journey through the initial signs of cognitive impairment brought on by Parkinson's disease and how this potentially disabling diagnosis turns into a "Window of Opportunity" to help others on the path. Kirk Hall began noticing small signs of mild cognitive impairment. He tells his story with directness, candor, sensitivity and humor. He describes the long and challenging visits to doctors seeking answers to his disturbing symptoms and the confusion caused by conflicting opinions about the nature and progression of his disease. His journal notes allow him to describe in vivid detail his slowly coming to grips with disability. He shares the internal struggle, anxiety and stress that uncertainty causes, not only for himself but for his family as well. Click here for more details
Kirk W.Hall has also written two children's books concerning Parkinson's Disease - Carina and Her Care Partner Gramma Click here for more details and Carson and His Shaky Paws Grampa Click here for more details
For more books concerning Parkinson's Disease go to Parkinson's Disease books In order to refer to this article on its own click here
15th August 2014 - News release
ROBIN WILLIAMS DIES WITH PARKINSON'S DISEASE
CLICK HERE

FOR A PRINTABLE OR WHITE BACKGROUND VERSION OF THIS ARTICLE
Robin Williams (1951-2014) was an American actor and comedian who appeared in numerous films. He recently committed suicide. His wife, Susan Schneider, has made a statement that, at the time of his death, Robin Williams was in the early stages of Parkinson's Disease.

His wife, Susan Schneider wrote : "Robin's sobriety was intact and he was brave as he struggled with his own battles of depression, anxiety as well as early stages of Parkinson's Disease, which he was not yet ready to share publicly. It is our hope in the wake of Robin's tragic passing, that others will find the strength to seek the care and support they need to treat whatever battles they are facing so they may feel less afraid."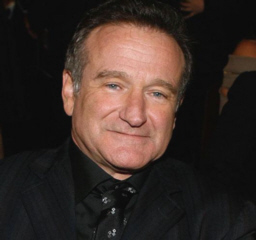 Starting as a stand-up comedian in San Francisco and Los Angeles, Robin Williams soon rose to fame as Mork in the TV series Mork & Mindy (1978-1982). His film career included : Popeye (1980), The World According to Garp (1982), Good Morning Vietnam (1987), Dead Poets Society (1989), Awakenings (1990), The Fisher King (1991), Hook (1991), Mrs. Doubtfire (1993), Jumanji (1995), and Night at the Museum (2006). He was nominated for the Academy Award for Best Actor three times and won the Academy Award for Best Supporting Actor. He sometimes suffered from depression and struggled with drug and alcohol addiction for much of his career. On 11th August 2014 he was found dead after committing suicide by hanging. For more information go to Robin Williams In order to refer to this article on its own click here
14th August 2014 - News release
WEARABLE SENSORS FOR PARKINSON'S DISEASE
CLICK HERE

FOR A PRINTABLE OR WHITE BACKGROUND VERSION OF THIS ARTICLE
The Michael J. Fox Foundation and Intel Corporation are partnering to gather and analyse data from Wrist-worn devices worn by people with Parkinson's Disease that track users' movement. The results could help individuals and their doctors better manage their Parkinson's Disease.


A study was launched earlier this year to evaluate three wearable devices for tracking measurable features of Parkinson's Disease such as slowness and frequency of movement. People with Parkinson's Disease wore the devices during two clinic visits and at home over a few days.
Intel engineers are comparing the data obtained from the device to clinical observations and patient diaries in order to test the devices' accuracy. They are developing mathematical formulas to measure the symptoms and the progression of Parkinson's Disease. These devices can capture up to 300 observations per second. So formulas to interpret all that data and report what it means related to someone's Parkinson's Disease can help individuals and their physicians monitor disease.

The next phase of the MJFF-Intel study will capture data to measure medication response such as on/off episodes. Recruitment is expected to begin soon in locations including New York City, Boston and Tel Aviv, Israel. The Michael J.Fox Foundation plans to expand their use to other clinical studies. For more information go to The Michael J.Fox Foundation In order to refer to this article on its own click here