Parkinson's Disease News covers all significant new research, reports, books, and resources concerning Parkinson's Disease. Articles are chosen on the basis of their medical significance or potential interest. Our overwhelming priority is the facts, regardless of whether they contradict prevailing views or vested interests. Analysis and further information are provided either to explain the background or implications, or to balance misleading claims. If you notice errors or inadequacies, or dispute what is written, or want to propose articles, please e-mail [email protected].









23rd August 2014 - New book
WINDOW OF OPPORTUNITY : LIVING WITH THE REALITY OF PARKINSON'S AND THE THREAT OF DEMENTIA
Kirk W.Hall
CLICK HERE

FOR A PRINTABLE OR WHITE BACKGROUND VERSION OF THIS ARTICLE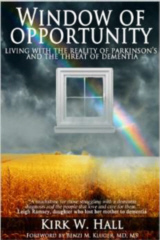 Publisher's description : Window of Opportunity is the story of one person's journey through the initial signs of cognitive impairment brought on by Parkinson's disease and how this potentially disabling diagnosis turns into a "Window of Opportunity" to help others on the path. Kirk Hall began noticing small signs of mild cognitive impairment. He tells his story with directness, candor, sensitivity and humor. He describes the long and challenging visits to doctors seeking answers to his disturbing symptoms and the confusion caused by conflicting opinions about the nature and progression of his disease. His journal notes allow him to describe in vivid detail his slowly coming to grips with disability. He shares the internal struggle, anxiety and stress that uncertainty causes, not only for himself but for his family as well. Click here for more details
Kirk W.Hall has also written two children's books concerning Parkinson's Disease - Carina and Her Care Partner Gramma Click here for more details and Carson and His Shaky Paws Grampa Click here for more details
For more books concerning Parkinson's Disease go to Parkinson's Disease books For more news go to Parkinson's Disease News

E-MAIL NOTIFICATION : If you would like to be notified by e-mail when any new articles are added to Parkinson's Disease News, please merely e-mail [email protected] with the message "subscribe". No form of identity is required. E-mail addresses are not used for any other purpose.