Parkinson's Disease News covers all significant new research, reports, books, and resources concerning Parkinson's Disease. Articles are chosen on the basis of their medical significance or potential interest. Our overwhelming priority is the facts, regardless of whether they contradict prevailing views or vested interests. Analysis and further information are provided either to explain the background or implications, or to balance misleading claims. If you notice errors or inadequacies, or dispute what is written, or want to propose articles, please e-mail [email protected].









15th August 2014 - News release
ROBIN WILLIAMS DIES WITH PARKINSON'S DISEASE
CLICK HERE

FOR A PRINTABLE OR WHITE BACKGROUND VERSION OF THIS ARTICLE
Robin Williams (1951-2014) was an American actor and comedian who appeared in numerous films. He recently committed suicide. His wife, Susan Schneider, has made a statement that, at the time of his death, Robin Williams was in the early stages of Parkinson's Disease.

His wife, Susan Schneider wrote : "Robin's sobriety was intact and he was brave as he struggled with his own battles of depression, anxiety as well as early stages of Parkinson's Disease, which he was not yet ready to share publicly. It is our hope in the wake of Robin's tragic passing, that others will find the strength to seek the care and support they need to treat whatever battles they are facing so they may feel less afraid."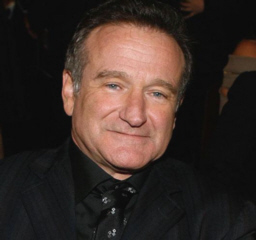 Starting as a stand-up comedian in San Francisco and Los Angeles, Robin Williams soon rose to fame as Mork in the TV series Mork & Mindy (1978-1982). His film career included : Popeye (1980), The World According to Garp (1982), Good Morning Vietnam (1987), Dead Poets Society (1989), Awakenings (1990), The Fisher King (1991), Hook (1991), Mrs. Doubtfire (1993), Jumanji (1995), and Night at the Museum (2006). He was nominated for the Academy Award for Best Actor three times and won the Academy Award for Best Supporting Actor. He sometimes suffered from depression and struggled with drug and alcohol addiction for much of his career. On 11th August 2014 he was found dead after committing suicide by hanging. For more information go to Robin Williams For more news go to Parkinson's Disease News

E-MAIL NOTIFICATION : If you would like to be notified by e-mail when any new articles are added to Parkinson's Disease News, please merely e-mail [email protected] with the message "subscribe". No form of identity is required. E-mail addresses are not used for any other purpose.