FEBRUARY 2013
18th February 2013 - News release
COGANE FAILS CLINICAL TRIALS FOR PARKINSON'S DISEASE
Phytopharm announced the results of the Phase II, randomised, double blind, placebo controlled, dose-ranging trial of Cogane in unmedicated patients with early-stage Parkinson's Disease. Cogane was found to have no beneficial effects at all on Parkinson's Disease symptoms. For more information go to the News release
Cogane, which can be taken orally, readily crosses the blood-brain barrier and has been shown to stimulate the release of GDNF. GDNF can indirectly stimulate the formation of dopamine, the substance whose insufficiency causes Parkinson's Disease. However, GDNF deficiency has never been shown to be the cause of Parkinson's Disease. Previous studies claiming efficacy for Cogane in Parkinson's Disease were only carried out in Macaque monkeys who did not actually have Parkinson's Disease. For a printable version of this article click here. In order to refer to this article on its own click here.
15th February 2013 - New research
DBS IS EFFECTIVE IN EARLIER PARKINSON'S DISEASE
New England Journal of Medicine [2013] 368 (7) : 610-622 (Schuepbach WM, Rau J, Knudsen K, Volkmann J, Krack P, Timmermann L, Hälbig TD, Hesekamp H, Navarro SM, Meier N, Falk D, Mehdorn M, Paschen S, Maarouf M, Barbe MT, Fink GR, Kupsch A, Gruber D, Schneider GH, Seigneuret E, Kistner A, Chaynes P, Ory-Magne F, Brefel Courbon C, Vesper J, Schnitzler A, Wojtecki L, Houeto JL, Bataille B, Maltête D, Damier P, Raoul S, Sixel-Doering F, Hellwig D, Gharabaghi A, Krüger R, Pinsker MO, Amtage F, Régis JM, Witjas T, Thobois S, Mertens P, Kloss M, Hartmann A, Oertel WH, Post B, Speelman H, Agid Y, Schade-Brittinger C, Deuschl G; EARLYSTIM Study Group) Complete abstract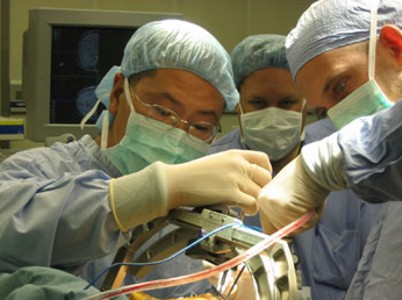 Researchers assessed whether it would be suitable to use Subthalamic stimulation at an earlier stage of Parkinson's Disease. Subthalamic stimulation, which is referred to as DBS (Deep Brain Stimulation), involves the use of electrodes that are implanted into the brain and connected to a small electrical device called a pulse generator that can be externally programmed. DBS can reduce the need for L-dopa and related drugs, which in turn decreases the involuntary movements called dyskinesias that are a common side effect of L-dopa. For more information go to Deep brain stimulation
In a two year clinical trial people with Parkinson's Disease and early motor complications (with an average age of 52 and a mean duration of Parkinson's Disease of 7.5 years) underwent neurostimulation plus medical therapy or only medical therapy alone. The primary end point was quality of life, as assessed with the use of the Parkinson's Disease Questionnaire (PDQ-39) with scores ranging from 0 to 100 and higher scores indicating worse function.
For the primary outcome of quality of life, the mean score for the neurostimulation group improved by 7.8 points, and that for the medical-therapy group worsened by 0.2 points. Neurostimulation was superior to medical therapy with respect to motor disability, activities of daily living, L-dopa induced motor complications, and time with good mobility and no dyskinesia. Serious adverse events occurred in 54% of the people in the neurostimulation group and in 44% of those in the medical therapy group. Serious adverse events related to surgical implantation or the neurostimulation device occurred in 17% of people. For a printable version of this article click here. In order to refer to this article on its own click here.
14th February 2013 - New research
MOLECULAR HYDROGEN WATER FOR PARKINSON'S DISEASE
Movement Disorders [2013] Feb 11 (A.Yoritaka, M.Takanashi, M.Hirayama, T.Nakahara, S.Ohta, N.Hattori, D.Weintraub, K.Papay, A.Siderowf) Complete abstract
Oxidative stress is involved in the progression of Parkinson's Disease. Recent studies have confirmed that molecular hydrogen (H2) functions as a highly effective antioxidant in cultured cells and animals.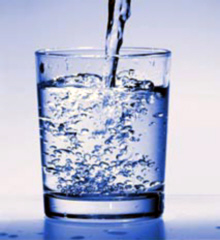 Drinking molecular hydrogen dissolved water had reduced oxidative stress and improved Parkinson's Disease features in animals. A pilot study was carried out in people with Parkinson's Disease who were taking L-dopa. Each person drank either a litre a day of molecular hydrogen water or only water (without the molecular hydrogen). Symptom scores improved in those people who drank molecular hydrogen water and worsened in those people who only drank normal water. The drinking of molecular hydrogen water was found to safe and well tolerated. It would therefore be an easy means of delaying or reducing symptoms. A larger clinical trial is intended. For a printable version of this article click here. In order to refer to this article on its own click here.
8th February 2013 - News release
POSITIVE RESULTS CLAIMED FOR STEM CELLS IN PARKINSON'S DISEASE
International Stem Cell Corporation have claimed positive results from its pre-clinical study using stem cells in the treatment of Parkinson's Disease. The primary goal of the study was to demonstrate the benefits of neuronal cells derived from human stem cells. The neuronal cells were derived from human parthenogenetic stem cells, which are not obtained via reproduction. They can become neurons when they are implanted in to the brain.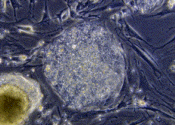 The study was carried out for 12 weeks on rats who did not actually have Parkinson's Disease. The rats were instead given 6-OHDA (6-Hydroxydopamine), which is a toxin used to kill dopaminergic neurons (the cells involved in Parkinson's Disease). The actual results for the study have not been disclosed. It has only been stated that "signs of improvement in rotational behavior of these animals were clearly observed." For more information go to the News release
Although it was claimed for many years that stem cells could rid Parkinson's Disease, stem cell operations have not fulfilled those claims. It was widely believed that stem cell operations were essential because there was a massive loss of cells involved in Parkinson's Disease. However, no study has ever demonstrated massive cell loss in Parkinson's Disease. For a printable version of this article click here. In order to refer to this article on its own click here.
6th February 2013 - New book
SO I'VE GOT PARKINSON'S DISEASE
Terry Rummins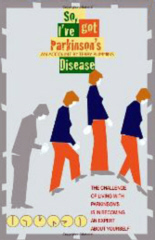 Publisher's description : Terry Rummins was diagnosed with Parkinson's 10 years ago. So, I've Got Parkinson's Disease is her story and covers her diagnosis and the progression of the condition - from the first warning tremors in her right hand to her day-to-day life now. Terry has written this book in the hope that describing her experience will benefit others who have been diagnosed with Parkinson's and to help them understand their expectations of how the condition may affect them. This is a candid story, told with humour and contains a positive message for those recently diagnosed and those close to them. It is also for anyone interested in what happens when life presents an unpleasant surprise. Click here for more details. For more books concerning Parkinson's Disease go to Parkinson's Disease Books.