7th February 2013 - News release
POSITIVE RESULTS CLAIMED FOR STEM CELLS IN PARKINSON'S DISEASE
International Stem Cell Corporation have claimed positive results from its pre-clinical study using stem cells in the treatment of Parkinson's Disease. The primary goal of the study was to demonstrate the benefits of neuronal cells derived from human stem cells. The neuronal cells were derived from human parthenogenetic stem cells, which are not obtained via reproduction. They can become neurons when they are implanted in to the brain.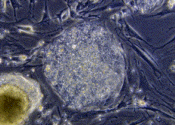 The study was carried out for 12 weeks on rats who did not actually have Parkinson's Disease. The rats were instead given 6-OHDA (6-Hydroxydopamine), which is a toxin used to kill dopaminergic neurons (the cells involved in Parkinson's Disease). The actual results for the study have not been disclosed. It has only been stated that "signs of improvement in rotational behavior of these animals were clearly observed." For more information go to the News release
Although it was claimed for many years that stem cells could rid Parkinson's Disease, stem cell operations have not fulfilled those claims. It was widely believed that stem cell operations were essential because there was a massive loss of cells involved in Parkinson's Disease. However, no study has ever demonstrated massive cell loss in Parkinson's Disease. For a printable version of this article click here. For more news go to Parkinson's Disease News.

E-MAIL NOTIFICATION : If you would like to be notified by e-mail when any new articles are added to Parkinson's Disease News, please merely e-mail [email protected] with the message "subscribe". No form of identity is required. E-mail addresses are not used for any other purpose.