Parkinson's Disease News covers all significant new research, reports, books, and resources concerning Parkinson's Disease. Articles are chosen on the basis of their medical significance or potential interest. Our overwhelming priority is the facts, regardless of whether they contradict prevailing views or vested interests. Analysis and further information are provided either to explain the background or implications, or to balance misleading claims. If you notice errors or inadequacies, or dispute what is written, or want to propose articles, please e-mail [email protected].









11th November 2015 - New research
L-DOPA REDUCES THE RISK OF LOSS OF EYESIGHT
CLICK HERE

FOR A PRINTABLE OR WHITE BACKGROUND VERSION OF THIS ARTICLE
L-dopa, which is commonly used for the treatment of Parkinson's Disease, has been found to reduce the risk of Age-related Macular Degeneration (AMD), which is a leading cause of visual loss in the elderly. Age-related macular degeneration (AMD) is a condition that causes the loss of central vision, usually in both eyes. In AMD, this vision becomes increasingly blurred, which means : reading becomes difficult, colours appear less vibrant, people's faces are difficult to recognise. For more information go to : Age-related Macular Degeneration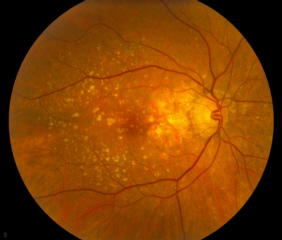 L-dopa is crucially involved in the biochemistry of eyesight. A key cell type involved in Age-related Macular Degeneration (AMD), the retinal pigment epithelium, expresses a g-protein coupled receptor that, in response to L-dopa, upregulates pigment epithelia derived factor, while downregulating vascular endothelial growth factor. So researchers investigated the relationship between L-dopa and Age-related Macular Degeneration (AMD). In those people taking L-dopa, AMD occurred significantly later than in those people who did not take L-dopa. The likelihood of developing AMD at all was also found to be reduced in those people taking L-dopa, which is what many people with Parkinson's Disease take.
Reference : The American Journal of Medicine [2015] Oct 30 [Epub ahead of print] (M.H.Brilliant, K.Vaziri, T.B.Connor Jr, S.G.Schwartz, J.J.Carroll , C.A.McCarty, S.J.Schrodi, S.J.Hebbring, K.S.Kishor, H.W.Flynn Jr, A.A.Moshfeghi, D.M.Moshfeghi, M.E.Fini, B.S.McKay) Complete abstract In order to refer to this article on its own click here For more news go to Parkinson's Disease News

E-MAIL NOTIFICATION : If you would like to be notified by e-mail when any new articles are added to Parkinson's Disease News, please merely e-mail [email protected] with the message "subscribe". No form of identity is required. E-mail addresses are not used for any other purpose.