Parkinson's Disease News covers all significant new research, reports, books, and resources concerning Parkinson's Disease. Articles are chosen on the basis of their medical significance or potential interest. Our overwhelming priority is the facts, regardless of whether they contradict prevailing views or vested interests. Analysis and further information are provided either to explain the background or implications, or to balance misleading claims. If you notice errors or inadequacies, or dispute what is written, or want to propose articles, please e-mail [email protected].









10th May 2015 - New book
PREVENTING PARKINSON'S : HOW TO CUT YOUR RISK BY STRENGTHENING YOUR MULTIPLE SHIELDS
Ben Weinstock
CLICK HERE

FOR A PRINTABLE OR WHITE BACKGROUND VERSION OF THIS ARTICLE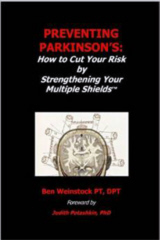 Publisher's description : Preventing Parkinson's is the only book available that gives readers proactive lifestyle recommendations for optimizing health and lowering the risk of developing Parkinsonís Disease. With over 1,000 references, this extraordinary, groundbreaking work provides cutting-edge, evidence-based research. It is a comprehensive compilation that will benefit both lay people and medical professionals alike. Dr. Weinstock thoroughly evaluates how the synergy of diet, exercise, sleep, stress management, avoidance of toxins, prevention of head injuries, and proper medical care can reduce oneís chance of developing Parkinsonís Disease. Click here for more details For more books concerning Parkinson's Disease go to Parkinson's Disease books For more news go to Parkinson's Disease News

E-MAIL NOTIFICATION : If you would like to be notified by e-mail when any new articles are added to Parkinson's Disease News, please merely e-mail [email protected] with the message "subscribe". No form of identity is required. E-mail addresses are not used for any other purpose.