Parkinson's Disease News covers all significant new research, reports, books, and resources concerning Parkinson's Disease. Articles are chosen on the basis of their medical significance or potential interest. Our overwhelming priority is the facts, regardless of whether they contradict prevailing views or vested interests. Analysis and further information are provided either to explain the background or implications, or to balance misleading claims. If you notice errors or inadequacies, or dispute what is written, or want to propose articles, please e-mail [email protected].









22nd December 2014 - New research
LONG TERM EFFECTS OF DBS ON PARKINSON'S DISEASE
CLICK HERE

FOR A PRINTABLE OR WHITE BACKGROUND VERSION OF THIS ARTICLE
Deep Brain Stimulation of the Subthalamic Nucleus (STN-DBS) is an effective treatment for Parkinson's Disease, but in the long term Parkinson's Disease symptoms have been found to still deteriorate very significantly. DBS involves the use of electrodes that are implanted into the brain and connected to a small electrical device called a pulse generator that can be externally programmed. For more information go to : Deep Brain Stimulation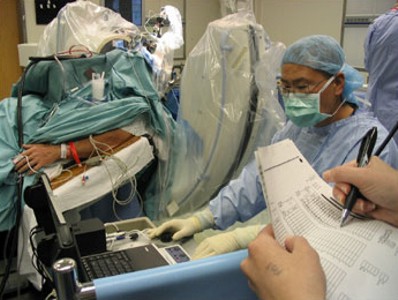 After 11 years, DBS significantly improved the motor symptoms of people with Parkinson's Disease by 35%. Motor complications were well controlled, with an 84% improvement of dyskinesias and a 65% improvement of motor fluctuations. Despite this, the Parkinson's Disease symptom score (the UPDRS-II-on score) worsened by 88%, mainly for the worsening of poorly L-dopa-responsive symptoms. More than 70% of the patients performed in the normal range in most of the neuropsychological tests, despite the development of dementia in 22% of them.
The study confirmed the long-term safety of STN-DBS in Parkinson's Disease. However, the functionality of patients worsens over time, mainly for the onset and progression of L-dopa-resistant and non-motor symptoms. The role of PD-subtype seems to be relevant in the long-term outcome.
Reference : Parkinsonism Related Disorders [2014] 20 (4) : 376-381 (M.G.Rizzone, A. Fasano, A.Daniele, M.Zibetti, A.Merola, L.Rizzi, C.Piano, C.Piccininni, L.M.Romito, L. Lopiano, A.Albanese) Complete abstract For more news go to Parkinson's Disease News

E-MAIL NOTIFICATION : If you would like to be notified by e-mail when any new articles are added to Parkinson's Disease News, please merely e-mail [email protected] with the message "subscribe". No form of identity is required. E-mail addresses are not used for any other purpose.