JUNE 2015
25th June 2015 - News release
INHALED L-DOPA - PARKINSON'S DISEASE CLINICAL TRIAL RESULTS
CLICK HERE

FOR A PRINTABLE OR WHITE BACKGROUND VERSION OF THIS ARTICLE
CVT-301 is the name of an inhaled version of L-dopa presently being developed for the treatment of Parkinson's Disease. Clinical trial results demonstrated improved efficacy that was apparent in only 10 minutes. CVT-301 uses the ARCUS inhalation technology, which delivers a reliable and consistent drug dose with a compact, breath actuated inhaler. The inhaled version of L-dopa would be used alongside the use of oral L-dopa.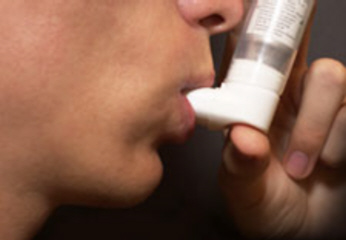 The clinical trial showed that patients experiencing an OFF episode, treated with either 35mg or 50mg CVT-301, had significantly greater improvements in motor function than patients treated with inhaled placebo. The difference in improvement was already apparent 10 minutes after dosing and was durable for at least an hour, the longest time point at which patients were measured. This enables fast working L-dopa unlike what has ever been seen before.
Both doses of CVT-301 were well tolerated, with no increase relative to placebo in troublesome or non-troublesome dyskinesias during ON periods. The most common adverse events were dizziness, headache and cough. There were no adverse events on cardiovascular or lung function. For more information go to Acorda
Based on the results of the Phase 2b clinical trial, Acorda has initiated a Phase 3 clinical trial in order to assess efficacy that is expected to enroll approximately 345 participants who will take either 50mg, 35mg, or placebo, just as were used in the Phase 2b clinical trial. In order to refer to this article on its own click here
20th June 2015 - New research
PARKINSON'S DISEASE ASSOCIATED WITH 16 CANCERS
CLICK HERE

FOR A PRINTABLE OR WHITE BACKGROUND VERSION OF THIS ARTICLE
Parkinson's Disease has previously been reported to be associated with a reduced risk of cancer, but has now been found to be associated with an increased risk of 16 types of cancer.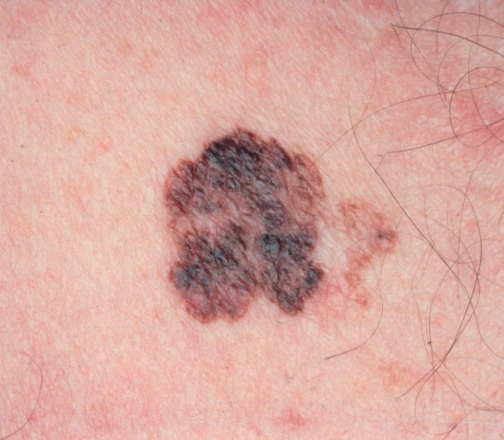 The overall risk of cancer in Parkinson's Disease was found to be 1.58 times the normal likelihood. Those cancers associated with Parkinson's Disease in order of the risk of likelihood are : malignant brain tumors 3.42, melanoma 2.75, bladder cancers 1.99, liver 1.89, uterine 1.83, gastrointestinal tract cancers 1.81, skin cancers (besides melanoma) 1.81, prostate 1.80. gallbladder 1.73, lymphoma or leukemia 1.62, kidney 1.59, stomach 1.59, lung cancers 1.56, pancreas 1.48, colorectal 1.47, cervical 1.36.
Of the 19 types of cancer assessed, Parkinson's Disease was not associated with breast, ovarian, or thyroid cancers but was associated with 16 others. It has not been indicated whether the risk of cancer is as a result of Parkinson's Disease or instead related to it indirectly for other reasons. The increased risk of some cancers is quite marginal.
The cause is only established for melonoma. The reduced ability in Parkinson's Disease to produce L-dopa reduces the capacity to produce melanin. Given that melanin helps to protect skin cells from Ultra Violet induced damage, melanoma is very probably increased in Parkinson's Disease because of the reduced capacity to produce L-dopa in the melanocytes. In other studies the risk of developing melanoma has been found to be even higher.
Reference : JAMA Oncology [2015] June 18 [Epub ahead of print] (Pei-Ying Lin, Shih-Ni Chang, Tzu-Hung Hsiao, Bo-Tsang Huang, Ching-Heng Lin, Pan-Chyr Yang) Complete abstract In order to refer to this article on its own click here
18th June 2015 - News release
NONINVASIVE BRAIN STIMULATOR FOR PARKINSON'S DISEASE
CLICK HERE

FOR A PRINTABLE OR WHITE BACKGROUND VERSION OF THIS ARTICLE
John Hopkins University is developing a non-invasive brain stimulator, called Stimband, for the treatment of Parkinson's Disease. STIMband is a headband shaped device that is placed on the head. It does not require any surgery. For more information go to STIMband brain stimulator
For people in advanced stages of Parkinson's Disease, one treatment option is deep brain stimulation. In this procedure, a surgeon implants thin electrical leads into the region of the brain that controls movement. The leads are connected to a pulse generator, similar to a pacemaker for the heart, that is placed under the skin below the collarbone. This implant sends electrical signals to the brain to help curb symptoms caused by Parkinson's Disease. However, this procedure is really invasive and can take 10 to 15 hours to complete.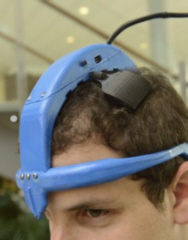 STIMband is based on transcranial direct current stimulation in which low-level current is passed through two electrodes placed over the head to tweak the electrical activity in specific areas of the brain. The STIMband prototype, which involves no surgery, enables a patient to activate the battery powered treatment by touching a large easy-to-press button. With patient safety in mind, the prototype delivers current for only 20 minutes daily at a doctor prescribed level. It is inexpensive, safe and relatively easy to administer without any side effects.
It is easy to put on, comfortable to wear and is positioned so that the electrodes remain stable and properly target the motor cortices areas of the brain. The inventors obtained provisional patents covering the design of the device, dubbed the STIMband.
Another Johns Hopkins team is taking over the project in September to further enhance the design and move it closer to patient availability. One addition may be a wireless connection to allow a doctor to adjust a patient's treatment level from a remote location. In order to refer to this article on its own click here
15th June 2015 - New research
THE SENSE-PARK SYSTEM FOR PARKINSON'S DISEASE DIAGNOSIS
CLICK HERE

FOR A PRINTABLE OR WHITE BACKGROUND VERSION OF THIS ARTICLE
The SENSE-PARK System has been developed to enable an objective, continuous and relatively unobtrusive system to monitor Parkinson's Disease. It consists of wearable sensors, three of which are worn during the day and one of them worn at night, a smartphone-based App, and a balance board and computer software. For more information go to SENSE-PARK system
The SENSE-PARK System was tested 24/7 over 12 weeks in a study involving people with Parkinson's Disease. During the first four weeks of the study, patients did not get feedback about their performance, during the last eight weeks they did. The study included seven clinical visits with standardised interviews, and regular phone contact. The primary outcome was the number of drop-outs during the study. Yet all patients completed the study.
The participants rated the usability of the SENSE-PARK System favourably. The interviews revealed that most participants liked using the system and appreciated that it signalled changes in their health condition. This study demonstrated that the acceptance level of people with Parkinson's Disease using the SENSE-PARK System as a home-based 24/7 assessment is very good. Motivation to use the system can be increased by providing feedback about the health condition.
Reference : BMC Neurology [2015] 15 : 89 (J.J.Ferreira, C.Godinho, A.T.Santos, J. Domingos, D.Abreu, R.Lobo, N.Gonçalves, M.Barra, F.Larsen, Ø.Fagerbakke, I.Akeren, H. Wangen, J.A.Serrano, P.Weber, A.Thoms, S.Meckler, S.Sollinger, J.van Uem, M.A.Hobert, K.Maier, H.Matthew, T.Isaacs, J.Duffen, H.Graessner, W.Maetzler) Complete abstract In order to refer to this article on its own click here
3rd June 2015 - New book
PARKINSON'S DISEASE AND MOVEMENT DISORDERS
Dr. Joseph Jankovic, Eduardo Tolosa
CLICK HERE

FOR A PRINTABLE OR WHITE BACKGROUND VERSION OF THIS ARTICLE
Publisher's description : Trusted as the leading text in the field, Parkinson's Disease and Movement Disorders, 6th Edition, brings you fully up to date with new developments in this rapidly-changing subspecialty. International experts provide thorough coverage of basic science and clear guidance for your day-to-day clinical challenges – from innovative medical and surgical treatments to new drug delivery systems and recent discoveries in genetics, plus much more. In addition, an extensive online video atlas demonstrates movement and posture abnormalities, as well as unique and unusual phenomenology. Click here for more details For more books concerning Parkinson's Disease go to Parkinson's Disease books In order to refer to this article on its own click here