18th January 2016 - New research
20 PER CENT
WITH PARKINSON'S DISEASE ARE MISDIAGNOSED
CLICK HERE
FOR A PRINTABLE OR WHITE BACKGROUND VERSION OF THIS ARTICLE
An extensive study, carried out over the last 25 years, has shown that around 20% of people diagnosed with Parkinson's Disease have been misdiagnosed. The expertise of the person making the diagnosis did not make a considerable difference.
Twenty studies were assessed for the accuracy of diagnosing Parkinson's Disease. The average accuracy of diagnosing Parkinson's Disease for these studies was only 80%. For clinical diagnosis performed by non-experts the accuracy of diagnosis was even less at 73% accuracy. Accuracy of clinical diagnosis performed by movement disorders experts rose from 79% at the initial assessment to 84% after a follow-up assessment. The average accuracy of diagnosis by movement disorders experts overall was 82%.
The accuracy of diagnosing Parkinson's Disease was found to have not significantly improved in the last 25 years. The overall validity of clinical diagnosis of Parkinson's Disease is far from satisfying. This is particularly true in the early stages of Parkinson's Disease, when the response to dopaminergic treatment is less defined and hallmarks of alternative diagnoses such as atypical Parkinsonism may not have emerged. For more concerning the methods of diagnosing Parkinson's Disease go to : Diagnosis of Parkinson's Disease
Reference : Neurology [2016] Jan 13 [Epub ahead of print] (G.Rizzo, M.Copetti, S.Arcuti, D. Martino, A.Fontana, G.Logroscino) Complete abstract In order to refer to this article on its own click here
7th January 2016 - New research
OPICAPONE - NEW COMT INHIBITOR FOR PARKINSON'S DISEASE
CLICK HERE
FOR A PRINTABLE OR WHITE BACKGROUND VERSION OF THIS ARTICLE
Opicapone is a COMT inhibitor presently being assessed as a possible replacement for the COMT inhibitor Entacapone in its use in Parkinsons' Disease. COMT inhibitors are added to the use of L-dopa to enhance its effect because COMT inhibitors help to prevent the breakdown of L-dopa. Entacapone is presently the most widely used COMT inhibitor for use in Parkinson's Disease. For more information go to : Entacapone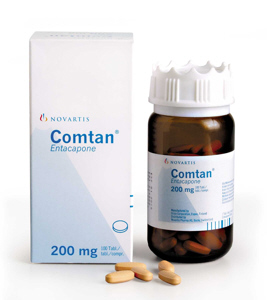 A comparison was made between the use of a placebo, oral treatment with opicapone (5 mg, 25 mg, or 50 mg once daily), or entacapone (200 mg with every L-dopa intake). The reduction in off times were 56 minutes for a placebo, 96 minutes for entacapone, 91 minutes for 5mg opicapone, 86 minutes for 25mg opicapone, and, best of all, 116 minutes for 50mg opicapone. Adverse effects were reported in 50% of people taking a placebo, 57% taking entacapone, 52% taking 5mg opicapone, 55% taking 25mg opicapone, and 54% taking 50mg opicapone. The most common adverse effects were dyskinesia, insomnia and constipation. There was little difference in this respect between entacapone and certain dosages of opicapone.

The advantages of higher dosages of opicapone over entacapone means that opicapone has the potential to replace entacapone.
Reference : Lancet Neurol [2015] Dec 22 [Epub ahead of print] (J.J.Ferreira, A. Lees, J.F.Rocha, W.Poewe, O.Rascol, P.Soares-da-Silva) Complete abstract In order to refer to this article on its own click here