Parkinson's Disease News covers all significant new research, reports, books, and resources concerning Parkinson's Disease. Articles are chosen on the basis of their medical significance or potential interest. Our overwhelming priority is the facts, regardless of whether they contradict prevailing views or vested interests. Analysis and further information are provided either to explain the background or implications, or to balance misleading claims. If you notice errors or inadequacies, or dispute what is written, or want to propose articles, please e-mail [email protected].









7th January 2016 - New research
OPICAPONE - NEW COMT INHIBITOR FOR PARKINSON'S DISEASE
CLICK HERE

FOR A PRINTABLE OR WHITE BACKGROUND VERSION OF THIS ARTICLE
Opicapone is a COMT inhibitor presently being assessed as a possible replacement for the COMT inhibitor Entacapone in its use in Parkinsons' Disease. COMT inhibitors are added to the use of L-dopa to enhance its effect because COMT inhibitors help to prevent the breakdown of L-dopa. Entacapone is presently the most widely used COMT inhibitor for use in Parkinson's Disease. For more information go to : Entacapone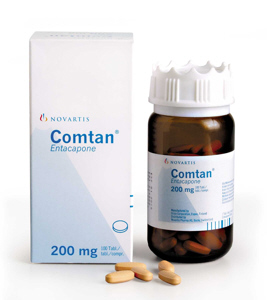 A comparison was made between the use of a placebo, oral treatment with opicapone (5 mg, 25 mg, or 50 mg once daily), or entacapone (200 mg with every L-dopa intake). The reduction in off times were 56 minutes for a placebo, 96 minutes for entacapone, 91 minutes for 5mg opicapone, 86 minutes for 25mg opicapone, and, best of all, 116 minutes for 50mg opicapone. Adverse effects were reported in 50% of people taking a placebo, 57% taking entacapone, 52% taking 5mg opicapone, 55% taking 25mg opicapone, and 54% taking 50mg opicapone.
The most common adverse effects were dyskinesia, insomnia and constipation. There was little difference in this respect between entacapone and certain dosages of opicapone.

The advantages of higher dosages of opicapone over entacapone means that opicapone has the potential to replace entacapone.
Reference : Lancet Neurol [2015] Dec 22 [Epub ahead of print] (J.J.Ferreira, A. Lees, J.F.Rocha, W.Poewe, O.Rascol, P.Soares-da-Silva) Complete abstract For more news go to Parkinson's Disease News

E-MAIL NOTIFICATION : If you would like to be notified by e-mail when any new articles are added to Parkinson's Disease News, please merely e-mail [email protected] with the message "subscribe". No form of identity is required. E-mail addresses are not used for any other purpose.