Parkinson's Disease News covers all significant new research, reports, books, and resources concerning Parkinson's Disease. Articles are chosen on the basis of their medical significance or potential interest. Our overwhelming priority is the facts, regardless of whether they contradict prevailing views or vested interests. Analysis and further information are provided either to explain the background or implications, or to balance misleading claims. If you notice errors or inadequacies, or dispute what is written, or want to propose articles, please e-mail [email protected].









18th February 2017 - New research
VIRTUAL REALITY AIDS PARKINSON'S DISEASE
CLICK HERE
FOR A PRINTABLE OR WHITE BACKGROUND VERSION OF THIS ARTICLE
Virtual reality (VR) technology has been proposed as a new means of rehabilitating people with Parkinson's Disease that has added value over that of physiotherapy. It potentially optimises motor learning in a safe environment, and by replicating real-life scenarios could help improve functional activities of daily living.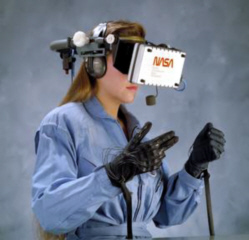 Virtual reality (VR) means experiencing things through computers that don't really exist. It is a believable, and interactive 3D computer-created world that you can explore so that you feel you really are there, both mentally and physically. For more information go to : Virtual Reality
Most of the studies intended to improve motor function using commercially available devices were compared with the use of physiotherapy. The interventions lasted for between 4 and 12 weeks. In comparison to physiotherapy, Virtual Reality may lead to moderate improvement in step and stride length. Virtual Reality and physiotherapy may have similar effects on gait, balance, and quality of life.
However, the authors concluded that there was low-quality evidence of a positive effect of short-term Virtual Reality exercise on step and stride length.
Reference : The Cochrane Database of Systematic Reviews [2016] 12 : CD010760 (K.Dock, E.M.Bekkers, V.Van den Bergh, P.Ginis, L.Rochester, J.M.Hausdorff, A.Mirelman, A. Nieuwboer) Complete abstract For more news go to Parkinson's Disease News

E-MAIL NOTIFICATION : If you would like to be notified by e-mail when any new articles are added to Parkinson's Disease News, please merely e-mail [email protected] with the message "subscribe". No form of identity is required. E-mail addresses are not used for any other purpose.
THE COMPREHENSIVE GUIDE TO PARKINSON'S DISEASE



The Comprehensive Guide to Parkinson's Disease, which is fully referenced, and over 800 pages long, is the most comprehensive book concerning Parkinson's Disease. It includes the history of Parkinson 's Disease, famous people with Parkinson's Disease, the complete biochemisty of Parkinson's Disease,

its cytology and cytological effects, anatomy and anatomical effects, physiology and physiological effects, symptoms of every system in the body, the diagnosis methods (observational, technological, chemical), biochemical causes, all the toxic causes, all the genetic causes, all the pharmacological causes, all the medical disorders that cause Parkinson's Disease symptoms, its treatments (biochemical, pharmacological, surgical, natural, exercise methods, technological methods), including all those treatments that exist and all those treatments presently being developed, Parkinson's Disease organisations, Parkinson's Disease web sites, and books on Parkinson's Disease nursing.

CLICK HERE FOR MORE DETAILS