Parkinson's Disease News covers all significant new research, reports, books, and resources concerning Parkinson's Disease. Articles are chosen on the basis of their medical significance or potential interest. Our overwhelming priority is the facts, regardless of whether they contradict prevailing views or vested interests. Analysis and further information are provided either to explain the background or implications, or to balance misleading claims. If you notice errors or inadequacies, or dispute what is written, or want to propose articles, please e-mail [email protected].









30th November 2016 - New research
FIRST ASSESSMENT OF THE ANTI-ALPHA-SYNUCLEIN PRX002 FOR PARKINSON'S DISEASE
CLICK HERE

FOR A PRINTABLE OR WHITE BACKGROUND VERSION OF THIS ARTICLE
Alpha-synuclein can accumulate under certain conditions, primarily in Parkinson's Disease, dementia with Lewy bodies, and multiple system atrophy, but also in Alzheimer's Disease and neuroaxonal dystrophies. Small amounts of alpha-synuclein can also occur in individuals who do not have neurological disorders.
The cytological effects of Parkinson's Disease can include the formation of hydrogen peroxide (because of the breakdown of superoxide anion), and also the accumulation of iron. Alpha-synuclein expression is regulated by iron, and hydrogen peroxide plays a dominant role in the aggregation of alpha-synuclein. Alpha-synuclein inhibits tyrosine 3-monooxygenase, which is the enzyme needed to form dopamine, whose deficiency causes Parkinson's Disease.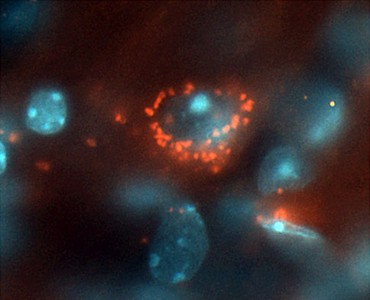 PRX002 is an antibody that targets α-synuclein, which has been shown in preclinical animal studies to reduce α-synuclein pathology and to protect against cognitive and motor deteriorations and progressive neurodegeneration. This first-in-human, phase 1 clinical trial assessed the impact of PRX002 administered to healthy participants in 5 doses (either 0.3, 1, 3, 10, or 30 mg/kg) or a placebo. PRX002 demonstrated favorable safety, tolerability, and pharmacokinetic profiles at all doses tested, with no immunogenicity. No serious adverse events, discontinuations as a result of adverse events, or dose-limiting toxicities were reported. A significant dose-dependent reduction in free serum α-synuclein was apparent within 1 hour after the administration of PRX002.
Reference : Movement Disorders [2016] Nov 25 [Epub ahead of print] (D.B.Schenk, M.Koller, D.K.Ness, S.G.Griffith, M.Grundman, W.Zago, J.Soto, G.Atiee, S.Ostrowitzki, G.G.Kinney) Complete abstract For more news go to Parkinson's Disease News

E-MAIL NOTIFICATION : If you would like to be notified by e-mail when any new articles are added to Parkinson's Disease News, please merely e-mail [email protected] with the message "subscribe". No form of identity is required. E-mail addresses are not used for any other purpose.