Parkinson's Disease News covers all significant new research, reports, books, and resources concerning Parkinson's Disease. Articles are chosen on the basis of their medical significance or potential interest. Our overwhelming priority is the facts, regardless of whether they contradict prevailing views or vested interests. Analysis and further information are provided either to explain the background or implications, or to balance misleading claims. If you notice errors or inadequacies, or dispute what is written, or want to propose articles, please e-mail [email protected].









27th August 2016 - New research
SMALL AND LARGE FIBER NEUROPATHY IN PARKINSON'S DISEASE
CLICK HERE

FOR A PRINTABLE OR WHITE BACKGROUND VERSION OF THIS ARTICLE
Recent studies have reported that peripheral neuropathy is common in people with Parkinson's Disease and raised the possibility that L-dopa neurotoxicity is the main culprit. Peripheral neuropathy develops when nerves in the body's extremities, such as the hands, feet and arms, are damaged. This can cause numbness and tingling in the feet or hands, burning pain in affected areas, and muscle weakness, especially in the feet. For more information go to : Neuropathy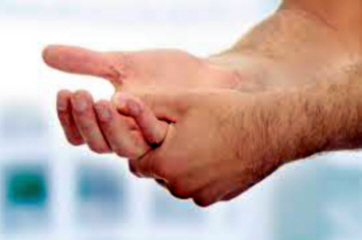 In people with Parkinson's Disease, neuropathy screening was carried out, including neurological examination, nerve conduction studies and skin wrinkling tests. Two of the tests showed that 57% and 42% of people with Parkinson's Disease had abnormal results that indicated polyneuropathy. The prevalence in people with a Parkinsonism was similar to people with Parkinson's Disease but the results were less severe. The results showed that polyneuropathy was more common in Parkinson's Disease than previously assumed, but the cause was not solely attributed to taking L-dopa.
The researchers concluded that large fiber and small fiber polyneuropathy are common in people with Parkinson's Disease. However, instead of concluding that the cause was L-dopa, the cause of the neuropathy was thought to be multifactorial. Neuropathy was previously related to age, vitamin B12 deficiency, serum folate levels, and especially L-dopa use.
Reference : BMC Neurology [2016] 16 : 139 (D.F.de Araújo, A.P.de Melo Neto, I.S. Oliveira, B.S.Brito, I.T.de Araújo, I.S.Barros, J.W.Lima, W.G.Horta, FdeA.Gondim) Complete abstract For more news go to Parkinson's Disease News

E-MAIL NOTIFICATION : If you would like to be notified by e-mail when any new articles are added to Parkinson's Disease News, please merely e-mail [email protected] with the message "subscribe". No form of identity is required. E-mail addresses are not used for any other purpose.