Parkinson's Disease News covers all significant new research, reports, books, and resources concerning Parkinson's Disease. Articles are chosen on the basis of their medical significance or potential interest. Our overwhelming priority is the facts, regardless of whether they contradict prevailing views or vested interests. Analysis and further information are provided either to explain the background or implications, or to balance misleading claims. If you notice errors or inadequacies, or dispute what is written, or want to propose articles, please e-mail [email protected].









11th April 2016 - New research
ADAPTIVE DEEP BRAIN STIMULATION FOR PARKINSON'S DISEASE
CLICK HERE

FOR A PRINTABLE OR WHITE BACKGROUND VERSION OF THIS ARTICLE
Conventional Deep Brain Stimulation is set by a movement disorders specialist and left running continuously without change until the next clinic visit. However, this continuous high voltage stimulation may interfere with normal functioning. In contrast, Adaptive deep brain stimulation (aDBS) has the potential to greatly improve the treatment of Parkinson's disease by optimizing deep brain stimulation in real time according to fluctuating disease and medication state. For more information go to : Adaptive Deep Brain Stimulation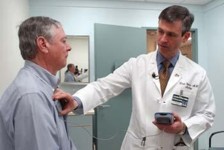 An external portable aDBS system prototype was developed that was designed for clinical testing in people with Parkinson's Disease who had externalised DBS electrodes. The aDBS system was validated by testing both its sensing and stimulation capabilities, and then by testing it in vivo, focusing on the sensing capabilities. By applying the aDBS system prototype in a patient with Parkinson's Disease, evidence was provided that it can track L-dopa and DBS-induced LFP spectral power changes among different patient's clinical states.
Compared to conventional deep brain stimulation (DBS) for people with Parkinson's Disease (PD), the newer approach of adaptive DBS (aDBS), regulating stimulation on the basis of the patient's clinical state, promises to achieve better clinical outcomes, avoid adverse-effects and save time for tuning parameters.
References : Medical Engineering and Physics [2016] [Epub ahead of print] (M.Arlotti, L.Rossi, M.Rosa, S.Marceglia, A.Priori) Complete abstract For more news go to Parkinson's Disease News

E-MAIL NOTIFICATION : If you would like to be notified by e-mail when any new articles are added to Parkinson's Disease News, please merely e-mail [email protected] with the message "subscribe". No form of identity is required. E-mail addresses are not used for any other purpose.