Parkinson's Disease News covers all significant new research, reports, books, and resources concerning Parkinson's Disease. Articles are chosen on the basis of their medical significance or potential interest. Our overwhelming priority is the facts, regardless of whether they contradict prevailing views or vested interests. Analysis and further information are provided either to explain the background or implications, or to balance misleading claims. If you notice errors or inadequacies, or dispute what is written, or want to propose articles, please e-mail [email protected].









18th February 2016 - New research
IRON ACCUMULATION IN PARKINSON'S DISEASE
CLICK HERE

FOR A PRINTABLE OR WHITE BACKGROUND VERSION OF THIS ARTICLE
Previous studies have claimed that there is an accumulation of iron in the brains of people with Parkinson's Disease This study was designed to explore the progressive pattern of iron accumulation at different stages of Parkinson's Disease. They were able to confirm a regionally progressive pattern of iron accumulation in the different stages of Parkinson's Disease.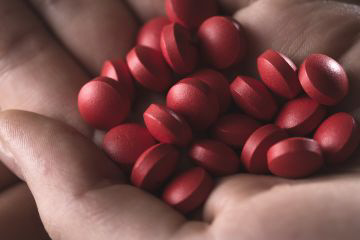 The substantia nigra pars compacta, which is the primary area of the brain affected by Parkinson's Disease, showed significantly increased iron levels in people with early Parkinson's Disease.
In people with advanced Parkinson's Disease, the regions of the brain with higher concentrations of iron spread to other areas of the brain (substantia nigra pars reticulata, red nucleus, globus pallidus).
Iron accumulation occurs in Hereditary Hemochromatosis. If iron accumulation caused Parkinson's Disease people with Hereditary Hemochromatosis should also have Parkinson's Disease. However, very few people with Hereditary Hemochromatosis have it. Instead of causing Parkinson's Disease, higher intake of iron is associated with a reduced risk of Parkinson's Disease. Iron is essential for the formation of dopamine, which is deficient in Parkinson's Disease. It is a common compensatory mechanism for a cofactor such as iron to accumulate when the substance it facilitates the formation of is deficient. So instead of iron accumulation causing Parkinson's Disease, Parkinson's Disease causes iron accumulation.
Reference : NMR in Biomedicine [2016] Feb 8 [Epub ahead of print] (X.Guan, M.Xuan, Q.Gu, P.Huang, C.Liu, N.Wang, X.Xu, W.Luo, M.Zhang) Complete abstract For more news go to Parkinson's Disease News

E-MAIL NOTIFICATION : If you would like to be notified by e-mail when any new articles are added to Parkinson's Disease News, please merely e-mail [email protected] with the message "subscribe". No form of identity is required. E-mail addresses are not used for any other purpose.