Parkinson's Disease News covers all significant new research, reports, books, and resources concerning Parkinson's Disease. Articles are chosen on the basis of their medical significance or potential interest. Our overwhelming priority is the facts, regardless of whether they contradict prevailing views or vested interests. Analysis and further information are provided either to explain the background or implications, or to balance misleading claims. If you notice errors or inadequacies, or dispute what is written, or want to propose articles, please e-mail [email protected].









28th December 2015 - New research
ULTRA EARLY DIAGNOSIS OF PARKINSON'S DISEASE
CLICK HERE

FOR A PRINTABLE OR WHITE BACKGROUND VERSION OF THIS ARTICLE
Researchers determined the value of enhanced substantia nigra echo in the diagnosis of Parkinson's Disease by analyzing the intensity and area of substantia nigra echo using transcranial Doppler sonography (TCS). Transcranial Doppler sonography is a technique that uses a handheld, microprocessor-controlled, low-frequency, pulsed Doppler transducer to measure the velocity and pulsatility of blood flow within certain areas of the brain. For more information go to : : Transcranial Doppler Sonography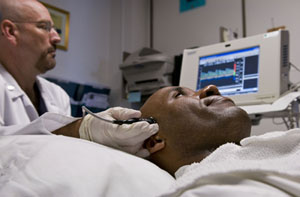 People without Parkinson's Disease were compared to people with ultra early stage Parkinson's Disease using results of substantia nigra echo, which are graded I (the least) to V (the greatest). The sensitivity of substantia nigra echo in diagnosing Parkinson's Disease was 89% and the specificity was 93%. The levels were much higher in early Parkinson's Disease. The figures for those people with Parkinson's Disease compared to those who did not have it were Grade V (19% v none), Grade IV (33% v none), Grade III (36% v 6%), Grade II (11% v 40%), Grade I (none v 53%). High grades were only present in Parkinson's Disease. Low grades were only present when there was no Parkinson's Disease.
Analysis of substantia nigra echo is therefore of practical use for the diagnosis of the ultra early stage Parkinson's Disease. It is cheaper and easier than the primary scanning methods and so can potentially improve the accuracy of clinical diagnosis to significantly enhance the early clinical prevention of disability.
Reference : European Review of Medical and Pharmacologial Sciences [2015] 19 (23) : 4621-4626 (J.J.Zhuang, Y.H.Zheng, X.W.Xu, L.Zhou) Complete abstract For more news go to Parkinson's Disease News

E-MAIL NOTIFICATION : If you would like to be notified by e-mail when any new articles are added to Parkinson's Disease News, please merely e-mail [email protected] with the message "subscribe". No form of identity is required. E-mail addresses are not used for any other purpose.