Parkinson's Disease News covers all significant new research, reports, books, and resources concerning Parkinson's Disease. Articles are chosen on the basis of their medical significance or potential interest. Our overwhelming priority is the facts, regardless of whether they contradict prevailing views or vested interests. Analysis and further information are provided either to explain the background or implications, or to balance misleading claims. If you notice errors or inadequacies, or dispute what is written, or want to propose articles, please e-mail [email protected].









20th October 2015 - New book
BRAIN STORMS : THE RACE TO UNLOCK THE MYSTERIES OF PARKINSON'S DISEASE
Jon Palfreman
CLICK HERE

FOR A PRINTABLE OR WHITE BACKGROUND VERSION OF THIS ARTICLE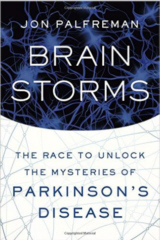 Publishers description : Seven million people worldwide suffer from Parkinson's, and doctors, researchers, and patients continue to hunt for a cure. In Brain Storms, the award-winning journalist Jon Palfreman tells their story, a story that became his own when he was diagnosed with the debilitating illness. He takes us back to the late 1950s and the discovery of L-dopa. Palfreman chronicles how scientists have worked to crack the mystery of what was once called the shaking palsy, from the earliest clinical descriptions of tremors, gait freezing, and micrographia to the cutting edge of neuroscience, and charts the victories and setbacks of a massive international effort to best the disease. Click here for more details For more books concerning Parkinson's Disease go to Parkinson's Disease books For more news go to Parkinson's Disease News

E-MAIL NOTIFICATION : If you would like to be notified by e-mail when any new articles are added to Parkinson's Disease News, please merely e-mail [email protected] with the message "subscribe". No form of identity is required. E-mail addresses are not used for any other purpose.