Parkinson's Disease News covers all significant new research, reports, books, and resources concerning Parkinson's Disease. Articles are chosen on the basis of their medical significance or potential interest. Our overwhelming priority is the facts, regardless of whether they contradict prevailing views or vested interests. Analysis and further information are provided either to explain the background or implications, or to balance misleading claims. If you notice errors or inadequacies, or dispute what is written, or want to propose articles, please e-mail [email protected].









29th September 2015 - New book
10 BREAKTHROUGH THERAPIES FOR PARKINSON'S DISEASE
Michael S.Okun
CLICK HERE

FOR A PRINTABLE OR WHITE BACKGROUND VERSION OF THIS ARTICLE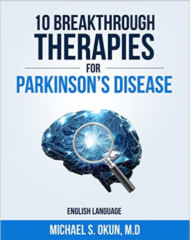 Publishers description : In his latest book, Dr Okun he reveals the breakthroughs in Parkinsonís disease that will pave the road to meaningful progress. In this book he reviews all of the recent breakthrough ideas and therapies in Parkinsonís disease, and he reviews the knowledge gained which is extending far beyond a single drug or stem cell. He paints the broader and more exciting picture and reviews the portfolio of breakthroughs spanning drug, cell, vaccine, device, genetics, care, and behavior. He believes that patients and families with personal investments in Parkinsonís disease should be informed and updated about all of these potential breakthrough therapies. Click here for more details For more books concerning Parkinson's Disease go to Parkinson's Disease books For more news go to Parkinson's Disease News

E-MAIL NOTIFICATION : If you would like to be notified by e-mail when any new articles are added to Parkinson's Disease News, please merely e-mail [email protected] with the message "subscribe". No form of identity is required. E-mail addresses are not used for any other purpose.