Parkinson's Disease News covers all significant new research, reports, books, and resources concerning Parkinson's Disease. Articles are chosen on the basis of their medical significance or potential interest. Our overwhelming priority is the facts, regardless of whether they contradict prevailing views or vested interests. Analysis and further information are provided either to explain the background or implications, or to balance misleading claims. If you notice errors or inadequacies, or dispute what is written, or want to propose articles, please e-mail [email protected].









31st August 2015 - New research
ASTHMA TREBLES THE RISK OF PARKINSON'S DISEASE
CLICK HERE

FOR A PRINTABLE OR WHITE BACKGROUND VERSION OF THIS ARTICLE
Asthma has been found to treble the likelihood of developing Parkinson's Disease. This risk is multiplied in more severe asthma. Asthma is a common long-term condition that can cause coughing, wheezing, chest tightness and breathlessness. Occasionally, asthma symptoms can get gradually or suddenly worse, causing an "asthma attack". For more information go to : Asthma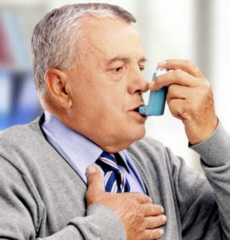 From those people that were diagnosed with asthma, those who subsequently developed Parkinson's Disease were identified. Also examined were their asthma severity, as indicated by the frequency of hospital admissions for asthma. People with asthma were found to have an increased risk of developing Parkinson's Disease that was three times normal.
People with more severe asthma who had frequent hospital admissions exhibited a far greater risk of subsequent Parkinson's disease that was as much as 16 times greater than would be expected. Fewer hospital admissions made the likelihood less than this.
The link between asthma and Parkinson's Disease is the level of activity of the cholinergic neurons. Cholinergic activity stimulates muscle contraction, which can provoke the muscular symptoms of Parkinson's Disease. Cholinergic activity also affects the bronchial glands. That is why anti-cholinergic drugs are used for both asthma and Parkinson's Disease.
Reference : Allergy [2015] Aug 27 [Epub ahead of print] (C.M.Cheng, Y.H.Wu, S.J.Tsai, Y.M.Bai, J.W.Hsu, K.L.Huang, T.P.Su, C.T.Li, C.F.Tsai, A.C.Yang, W.C.Lin, T.L.Pan, W.H.Chang, T.J.Chen, M.H.Chen) Complete abstract For more news go to Parkinson's Disease News

E-MAIL NOTIFICATION : If you would like to be notified by e-mail when any new articles are added to Parkinson's Disease News, please merely e-mail [email protected] with the message "subscribe". No form of identity is required. E-mail addresses are not used for any other purpose.