Parkinson's Disease News covers all significant new research, reports, books, and resources concerning Parkinson's Disease. Articles are chosen on the basis of their medical significance or potential interest. Our overwhelming priority is the facts, regardless of whether they contradict prevailing views or vested interests. Analysis and further information are provided either to explain the background or implications, or to balance misleading claims. If you notice errors or inadequacies, or dispute what is written, or want to propose articles, please e-mail [email protected].









30th August 2015 - New book
THE NEW PARKINSON'S DISEASE TREATMENT BOOK : PARTNERING WITH YOUR DOCTOR TO GET THE MOST FROM YOUR MEDICATIONS
J. Eric Ahlskog
CLICK HERE

FOR A PRINTABLE OR WHITE BACKGROUND VERSION OF THIS ARTICLE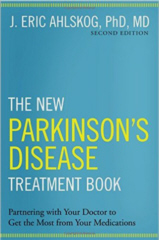 Publishers description : Dr. Ahlskog draws on thirty years of clinical experience to present the definitive guide to dealing with all aspects of Parkinson's Disease, from treatment options and side effects to the impact of the disease on caregivers and family. Dr. Ahlskog's goal is to educate patients so that they can better team up with their doctors to do battle with the disease. This book also examines additional aspects of treatment, such as the role of nutrition, exercise, and physical therapy. Patients are able to make more informed choices, and doctors are able to provide more tailored care. This book delivers extensive information to all parties concerned : patients, caregivers, and doctors. Click here for more details For more books concerning Parkinson's Disease go to Parkinson's Disease books For more news go to Parkinson's Disease News

E-MAIL NOTIFICATION : If you would like to be notified by e-mail when any new articles are added to Parkinson's Disease News, please merely e-mail [email protected] with the message "subscribe". No form of identity is required. E-mail addresses are not used for any other purpose.