Parkinson's Disease News covers all significant new research, reports, books, and resources concerning Parkinson's Disease. Articles are chosen on the basis of their medical significance or potential interest. Our overwhelming priority is the facts, regardless of whether they contradict prevailing views or vested interests. Analysis and further information are provided either to explain the background or implications, or to balance misleading claims. If you notice errors or inadequacies, or dispute what is written, or want to propose articles, please e-mail [email protected].









12th August 2015 - New research
TRANSDERMAL ROTIGOTINE - CLINICAL TRIAL RESULTS
CLICK HERE

FOR A PRINTABLE OR WHITE BACKGROUND VERSION OF THIS ARTICLE
Transdermal rotigotine, which is marketed as Neupro, is a dopamine receptor agonist that is used in the treatment of Parkinson's Disease. It offers the potential for continuous dopaminergic stimulation that could avoid the fluctuations observed with traditional forms of dopamine agonists. Neupro provides continuous delivery for 24 hours following application of the patch to intact skin. For more information go to : Neupro and Transdermal rotigotine system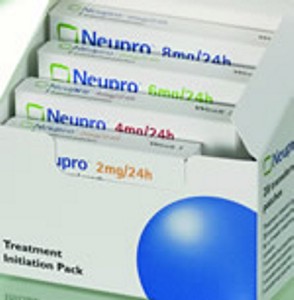 Rotigotine made hardly any difference to the Non-motor symptom score in Parkinson's Disease. However, improvements were detected in mood and apathy. General symptom improvements and the PDQ-39 scores also favoured rotigotine. Transdermal rotigotine also improved swallowing. There was a significantly greater reduction in the off-time when using rotigotine.
Adverse events reported more frequently with rotigotine were nausea, application site reactions, somnolence and headache. Serious adverse events were only uncommonly reported.
References : European Journal of Neurology [2015] Jun 22 [Epub ahead of print] (A.Antonini, L.Bauer, E.Dohin, W.H.Oertel, O.Rascol, H.Reichmann, M.Schmid, P.Singh, E.Tolosa, K.R.Chaudhuri) Complete abstract
Dysphagia [2015] May 13 [Epub ahead of print] (M.Hirano, C.Isono, H.Sakamoto, S.Ueno, S.Kusunoki, Y.Nakamura) Complete abstract
Journal of Neurology [2014] 261 (10) : 1887-1893 (M.Nomoto, Y.Mizuno, T.Kondo, K.Hasegawa, M. Murata, M. Takeuchi, J.Ikeda, T.Tomida, N.Hattori) Complete abstract For more news go to Parkinson's Disease News

E-MAIL NOTIFICATION : If you would like to be notified by e-mail when any new articles are added to Parkinson's Disease News, please merely e-mail [email protected] with the message "subscribe". No form of identity is required. E-mail addresses are not used for any other purpose.