Parkinson's Disease News covers all significant new research, reports, books, and resources concerning Parkinson's Disease. Articles are chosen on the basis of their medical significance or potential interest. Our overwhelming priority is the facts, regardless of whether they contradict prevailing views or vested interests. Analysis and further information are provided either to explain the background or implications, or to balance misleading claims. If you notice errors or inadequacies, or dispute what is written, or want to propose articles, please e-mail [email protected].









2nd August 2015 - New book
DISORDERS OF SLEEP AND CIRCADIAN RHYTHMS IN PARKINSON'S DISEASE
Aleksandar Videnovic, Birgit Högl
CLICK HERE

FOR A PRINTABLE OR WHITE BACKGROUND VERSION OF THIS ARTICLE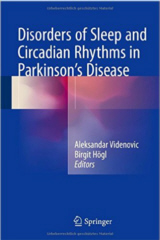 Publishers description : This book is the first to take into account the rapidly growing body of knowledge on the relation between sleep and PD. It provides a unique source of in-depth information on sleep and circadian dysregulation in Parkinson's disease. The book is divided into two parts: the first comprises chapters on normal sleep-wake homeostasis, followed by changes that occur in PD and discussions of available tools for the assessment of sleep-wake cycles in PD. In the second part, sleep and circadian disorders associated with PD are described in individual chapters, including sections on epidemiology, etiology, pathogenesis, differential diagnosis, and treatment. Click here for more details For more books concerning Parkinson's Disease go to Parkinson's Disease books For more news go to Parkinson's Disease News

E-MAIL NOTIFICATION : If you would like to be notified by e-mail when any new articles are added to Parkinson's Disease News, please merely e-mail [email protected] with the message "subscribe". No form of identity is required. E-mail addresses are not used for any other purpose.