Parkinson's Disease News covers all significant new research, reports, books, and resources concerning Parkinson's Disease. Articles are chosen on the basis of their medical significance or potential interest. Our overwhelming priority is the facts, regardless of whether they contradict prevailing views or vested interests. Analysis and further information are provided either to explain the background or implications, or to balance misleading claims. If you notice errors or inadequacies, or dispute what is written, or want to propose articles, please e-mail [email protected].









14th July 2015 - New research
YERBA MATE REDUCES THE LIKELIHOOD OF PARKINSON'S DISEASE
CLICK HERE

FOR A PRINTABLE OR WHITE BACKGROUND VERSION OF THIS ARTICLE
Yerba Mate has been found to reduce the likelihood of Parkinson's Disease by more than a third. Yerba Mate is a very common beverage in some countries of South America. It is a herb, that is dried and chopped, before pouring hot water over it to make a drink. For more information go to : Yerba Mate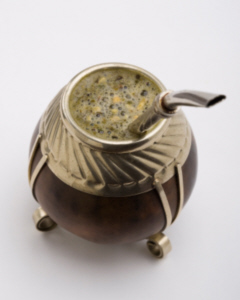 A study of hospital records was conducted in order to investigate the association between Parkinson's Disease and yerba mate intake. Coffee and tea intake were also assessed. The likelihood of Parkinson's Disease was reduced to 63% for those drinking yerba mate, which was down to 60% for those drinking tea, and was only 51% for those drinking coffeee. Yerba mate contains three xanthines : caffeine, theobromine and theophylline, the main one being caffeine, which is primarily how it has its stimulatory effect. Tea contains more caffeine than yerba mate. Coffee contains more caffeine than tea. Caffeine occurs to a lesser extent in cola drinks, cocoa, and chocolate.
Although the researchers detail the reduced likelihood of Parkinson's Disease because of drinking yerba mate, the reduced likelihood of Parkinson's Disease is even greater when drinking tea, and even more so when drinking coffee. The effect appears to be directly related to the caffeine intake. Caffeine is a naturally occurring adenosine antagonist. The Adenosine antagonist drugs Tozadenant, Preladenant, and Istradefylline are presently being assessed for their use in the treatment of Parkinson's Disease.
Reference : Journal of Neurological Science [2015] Jun 24 [Epub ahead of print] (E.M.Gatto, C.Melcon, V.L.Parisi, L.Bartoloni, C.D.Gonzalez) Complete abstract For more news go to Parkinson's Disease News

E-MAIL NOTIFICATION : If you would like to be notified by e-mail when any new articles are added to Parkinson's Disease News, please merely e-mail [email protected] with the message "subscribe". No form of identity is required. E-mail addresses are not used for any other purpose.