Parkinson's Disease News covers all significant new research, reports, books, and resources concerning Parkinson's Disease. Articles are chosen on the basis of their medical significance or potential interest. Our overwhelming priority is the facts, regardless of whether they contradict prevailing views or vested interests. Analysis and further information are provided either to explain the background or implications, or to balance misleading claims. If you notice errors or inadequacies, or dispute what is written, or want to propose articles, please e-mail [email protected].









21st May 2015 - New research
THE PLACE OF DEATH IN PARKINSON'S DISEASE
CLICK HERE

FOR A PRINTABLE OR WHITE BACKGROUND VERSION OF THIS ARTICLE
Most people prefer to receive end-of-life care in familiar surroundings rather than in hospital. This study examined the variation in the place of death for people dying from Parkinson's disease in European and non-European countries. They used death certificates for deaths with Parkinson's Disease as an underlying cause.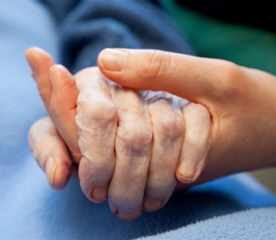 The proportion of deaths in hospital ranged from 17% in the USA, which was the lowest, to 75% in South Korea, which was the highest. Hospital was the most prevalent place of death in France (40%), Hungary (60%) and South Korea (75%). Nursing homes were the most prevalent place of death in New Zealand (71%), Belgium (52%), USA (50%), Canada (48%) and Czech Republic (44%). Home was the most prevalent place of death in Mexico (73%), Italy (51%) and Spain (46%). The chances of dying in hospital were consistently higher for men (Belgium, France, Italy, USA, Canada), those younger than 80 years (Belgium, France, Italy, USA, Mexico), and those living in areas with a higher provision of hospital beds (Italy, USA).
In several countries a substantial proportion of deaths from Parkinson's Disease occurs in hospitals, although this may not be the most optimal place of terminal care and death. The wide variation between countries in the proportion of deaths from Parkinson's Disease occurring in hospital indicates a potential for many countries to reduce these proportions.
Reference : BMC Palliative Care [2015] 14 (1) : 28 . [Epub ahead of print] (K.Moens, D.Houttekier, L.Van den Block, R.Harding, L.Morin, S.Marchetti, A.Csikos, M.Loucka, W.A.Naylor, D.M.Wilson, J.Teno, M.Cardenas-Turanzas, Y.Rhee, F.J.Garcia-Leon, L. Deliens, J.Cohen) Complete abstract For more news go to Parkinson's Disease News

E-MAIL NOTIFICATION : If you would like to be notified by e-mail when any new articles are added to Parkinson's Disease News, please merely e-mail [email protected] with the message "subscribe". No form of identity is required. E-mail addresses are not used for any other purpose.