Parkinson's Disease News covers all significant new research, reports, books, and resources concerning Parkinson's Disease. Articles are chosen on the basis of their medical significance or potential interest. Our overwhelming priority is the facts, regardless of whether they contradict prevailing views or vested interests. Analysis and further information are provided either to explain the background or implications, or to balance misleading claims. If you notice errors or inadequacies, or dispute what is written, or want to propose articles, please e-mail [email protected].









11th February 2015 - New research
APDM MOBILITY LAB FOR PARKINSON'S DISEASE ASSESSMENT
CLICK HERE

FOR A PRINTABLE OR WHITE BACKGROUND VERSION OF THIS ARTICLE
The diagnosis and estimation of disease severity in Parkinson's Disease was assessed using the APDM Mobility Lab. The APDM Mobility Lab uses wearable sensors and sophisticated signal processing to track even subtle changes in gait, stride, balance, rotation, and efficiency and range of movement in upper and lower limbs and torsos. Sensors are simply strapped on to the subject on various parts of the body, including the chest, waist, wrists and ankles. Subjects then perform a test after which a report is generated. For more information go to : APDM Mobility Lab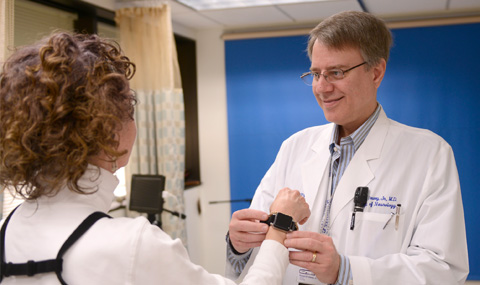 Each person performed iTUG (instrumented Timed-Up-and-Go) and iSway (instrumented Sway) using the APDM Mobility Lab. They were assessed according to a range of Parkinson's Disease scores. iTUG and iSway variables differentiated people with Parkinson's Disease from people who did not have Parkinson's Disease. They correlated with all Parkinson's Disease severity measures. Objective scores correlated more strongly with iTUG than iSway.
The study identified sets of iTUG and iSway variables that correlate with Parkinson's Disease severity measures and differentiate people with Parkinson's Disease. The authors suggest that these gait and balance measures could therefore potentially serve as markers of Parkinson's Disease progression. They are consequently under evaluation for this purpose in the ongoing NIH Parkinson Disease Biomarker Program.
Reference : Journal of Neurological Science [2014] 345 (1-2) : 131-138 (D.C.Dewey, S. Miocinovic, I.Bernstein, P.Khemani, R.B.Dewey, R.Querry, S.Chitnis, R.B.Dewey Jr) Complete abstract For more news go to Parkinson's Disease News

E-MAIL NOTIFICATION : If you would like to be notified by e-mail when any new articles are added to Parkinson's Disease News, please merely e-mail [email protected] with the message "subscribe". No form of identity is required. E-mail addresses are not used for any other purpose.