Parkinson's Disease News covers all significant new research, reports, books, and resources concerning Parkinson's Disease. Articles are chosen on the basis of their medical significance or potential interest. Our overwhelming priority is the facts, regardless of whether they contradict prevailing views or vested interests. Analysis and further information are provided either to explain the background or implications, or to balance misleading claims. If you notice errors or inadequacies, or dispute what is written, or want to propose articles, please e-mail [email protected].









23rd January 2015 - New research
RELUCTANCE TO START PARKINSON'S DISEASE TREATMENT
CLICK HERE

FOR A PRINTABLE OR WHITE BACKGROUND VERSION OF THIS ARTICLE
The first study to assess the reluctance to start medication in Parkinson's Disease has found a reluctance to begin medication that is primarily due to a fear about side effects and a refusal to accept a diagnosis of Parkinson's Disease.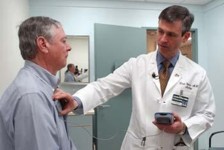 The most common reasons reported by patients for not starting Parkinson's Disease treatments were : the fear of side effects (55%), followed by the refusal to acceptance a diagnosis of Parkinson's Disease (36%). However, the main concern of physicians in starting Parkinson's Disease drugs was their temporary and limited benefits (34%). Patients were more than twice as reluctant to start dopamine agonists compared with starting L-Dopa. In contrast, physicians perceived starting L-dopa to be far more associated with greater reluctance.
People with Parkinson's Disease and physicians therefore clearly have a very different perspective on the issue of reluctance to start medication. The researchers suggest that there is a need to bring physicians and patients with Parkinson's Disease closer to a shared vision of the problem reluctance to start medication.
Reference : Parkinsonism Related Disorders [2014] 20 (6) : 608-612 (T.A.Mestre, T. Teodoro, W.Reginold, J.Graf, M.Kasten, J.Sale, M.Zurowski, J.Miyasaki, J.J.Ferreira, C. Marras) Complete abstract For more news go to Parkinson's Disease News

E-MAIL NOTIFICATION : If you would like to be notified by e-mail when any new articles are added to Parkinson's Disease News, please merely e-mail [email protected] with the message "subscribe". No form of identity is required. E-mail addresses are not used for any other purpose.