Parkinson's Disease News covers all significant new research, reports, books, and resources concerning Parkinson's Disease. Articles are chosen on the basis of their medical significance or potential interest. Our overwhelming priority is the facts, regardless of whether they contradict prevailing views or vested interests. Analysis and further information are provided either to explain the background or implications, or to balance misleading claims. If you notice errors or inadequacies, or dispute what is written, or want to propose articles, please e-mail [email protected].









28th December 2014 - New research
EFFECT OF PRAMIPEXOLE ER FOR PARKINSON'S DISEASE
CLICK HERE

FOR A PRINTABLE OR WHITE BACKGROUND VERSION OF THIS ARTICLE
The long term use of pramipexole as a once-daily extended-release oral formulation in early or advanced Parkinson's Disease demonstrated efficacy, but also adverse events. Pramipexole is a dopamine agonist that is most widely sold as Mirapex ER. For more information go to : Mirapex ER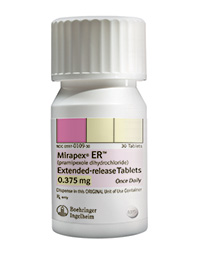 In early Parkinson's Disease the main adverse events of extended release pramipexole were somnolence (15%), peripheral edema (11%) and back pain (10%). In advanced Parkinson's Disease the main adverse events were dyskinesia (27%) and somnolence (13%).

Parkinson's Disease symptom scores (using the UPDRS) were improved in early Parkinson's Disease, with reductions of 6.6 and 6.3 points. In advanced Parkinson's Disease the scores were reduced even further, by 11.5 and 9.1 points after over two years.
These results support the long-term efficacy of pramipexole ER in early and advanced Parkinson's Disease. Adverse Events were typical for dopaminergic medications. UPDRS (Parkinson's Disease) scores suggested sustained symptomatic benefit.
Reference : European Journal of Neurology [2014] 21 (5) : 736-743 (R.A.Hauser, A.H. Schapira, P.Barone, Y.Mizuno, O.Rascol, M.Busse, C.Debieuvre, M.Fraessdorf, W.Poewe) Complete abstract For more news go to Parkinson's Disease News

E-MAIL NOTIFICATION : If you would like to be notified by e-mail when any new articles are added to Parkinson's Disease News, please merely e-mail [email protected] with the message "subscribe". No form of identity is required. E-mail addresses are not used for any other purpose.