Parkinson's Disease News covers all significant new research, reports, books, and resources concerning Parkinson's Disease. Articles are chosen on the basis of their medical significance or potential interest. Our overwhelming priority is the facts, regardless of whether they contradict prevailing views or vested interests. Analysis and further information are provided either to explain the background or implications, or to balance misleading claims. If you notice errors or inadequacies, or dispute what is written, or want to propose articles, please e-mail [email protected].









27th December 2014 - New book
NON-MOTOR SYMPTOMS OF PARKINSON'S DISEASE
K.Ray Chaudhuri, Eduardo Tolosa, Anthony H.V.Schapira, Werner Poewe
CLICK HERE

FOR A PRINTABLE OR WHITE BACKGROUND VERSION OF THIS ARTICLE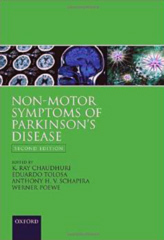 Publisher's description : Patients with Parkinson's disease (PD) are known to suffer from motor symptoms, but also experience non-motor symptoms (NMS) that are often present before diagnosis or that inevitably emerge with disease progression. The motor symptoms of Parkinson's disease have been extensively researched, and effective clinical tools for their assessment and treatment are readily available. Researchers have recently begun to focus on the NMS of Parkinson's Disease, which are poorly recognized and inadequately treated. NMS have an impact on patient quality of life and mortality and include neuropsychiatric, sleep-related, autonomic, gastrointestinal, and sensory symptoms. Some NMS can be improved with available treatments, but others will require research into novel therapies. This new edition summarizes the current understanding of NMS in Parkinson's disease and future research. Click here for more details For more books concerning Parkinson's Disease go to Parkinson's Disease books For more news go to Parkinson's Disease News

E-MAIL NOTIFICATION : If you would like to be notified by e-mail when any new articles are added to Parkinson's Disease News, please merely e-mail [email protected] with the message "subscribe". No form of identity is required. E-mail addresses are not used for any other purpose.