Parkinson's Disease News covers all significant new research, reports, books, and resources concerning Parkinson's Disease. Articles are chosen on the basis of their medical significance or potential interest. Our overwhelming priority is the facts, regardless of whether they contradict prevailing views or vested interests. Analysis and further information are provided either to explain the background or implications, or to balance misleading claims. If you notice errors or inadequacies, or dispute what is written, or want to propose articles, please e-mail [email protected].









13th November 2014 - New book
DEEP BRAIN STIMULATION FOR NEUROLOGICAL DISORDERS
Toru Itakura
CLICK HERE

FOR A PRINTABLE OR WHITE BACKGROUND VERSION OF THIS ARTICLE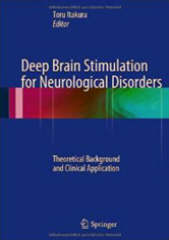 Publisher's description : Chronic electrical stimulation of the brain has demonstrated excellent outcomes in patients with Parkinsonís disease and has recently also been applied to other neurological diseases. This comprehensive, up-to-date book will meet the needs of all who wish to learn more about the application of deep brain stimulation and will provide a sound basis for safe and accurate surgery. The book comprises two main parts, the first of which presents relevant anatomical and functional background information on the basal ganglia, thalamus and other brain structures as well as on the mechanism of brain stimulation. The second part describes clinical studies on deep brain stimulation, covering results in a range of movement disorders and psychiatric diseases and also important aspects of instrumentation and technique. The authors are outstanding scientists and experts from across the world. Click here for more details For more books go to Parkinson's Disease books For more news go to Parkinson's Disease News

E-MAIL NOTIFICATION : If you would like to be notified by e-mail when any new articles are added to Parkinson's Disease News, please merely e-mail [email protected] with the message "subscribe". No form of identity is required. E-mail addresses are not used for any other purpose.