Parkinson's Disease News covers all significant new research, reports, books, and resources concerning Parkinson's Disease. Articles are chosen on the basis of their medical significance or potential interest. Our overwhelming priority is the facts, regardless of whether they contradict prevailing views or vested interests. Analysis and further information are provided either to explain the background or implications, or to balance misleading claims. If you notice errors or inadequacies, or dispute what is written, or want to propose articles, please e-mail [email protected].









2nd November 2014 - New book
GUIDE TO ASSESSMENT SCALES IN PARKINSON'S DISEASE
Pablo Martinez-Martin, Carmen Rodriguez-Blazquez, Maria Joao Forjaz, Kallol Ray Chaudhuri
CLICK HERE

FOR A PRINTABLE OR WHITE BACKGROUND VERSION OF THIS ARTICLE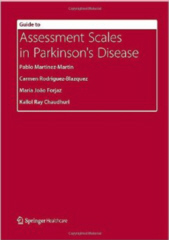 Publisher's description : This Guide assesses the key clinimetric attributes in the assessment of Parkinson's Disease, with the intention to offer rapid and pragmatic information on the most relevant scales used. The use of scales for assessment in neurological disorders such as PD arises from the need to quantify disorders and states (such constructs as disability, symptoms, quality of life). Assessment scales are often categorised into two categories: generic (i.e. those scales usable in any health condition), and specific (i.e. scales developed for exclusive use in PD). They can have a variety of components: single-item and multi-item or composite scale; unidimensional and multidimensional; and as disease-centered and patient-centered measures. The creation and validation of scales is complex, with scales undergoing numerous studies to assess criteria such as acceptability, reliability, and responsiveness. Click here for more details For more books concerning Parkinson's Disease go to Parkinson's Disease books For more news go to Parkinson's Disease News

E-MAIL NOTIFICATION : If you would like to be notified by e-mail when any new articles are added to Parkinson's Disease News, please merely e-mail [email protected] with the message "subscribe". No form of identity is required. E-mail addresses are not used for any other purpose.