Parkinson's Disease News covers all significant new research, reports, books, and resources concerning Parkinson's Disease. Articles are chosen on the basis of their medical significance or potential interest. Our overwhelming priority is the facts, regardless of whether they contradict prevailing views or vested interests. Analysis and further information are provided either to explain the background or implications, or to balance misleading claims. If you notice errors or inadequacies, or dispute what is written, or want to propose articles, please e-mail [email protected].









8th October 2014 - New book
LEVODOPA-INDUCED DYSKINESIA IN PARKINSON'S DISEASE
Susan H.Fox (Editor), Jonathan M.Brotchie (Editor)
CLICK HERE

FOR A PRINTABLE OR WHITE BACKGROUND VERSION OF THIS ARTICLE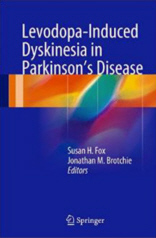 Publisher's description : This book aims to provide a single reference source on levodopa-induced dyskinesias (LID) from 'bench to bedside'. Initial chapters review the clinical features and phenomenology of LID with video examples; epidemiology and genetic risk factors for LID are covered as a background to understanding risk factors for developing LID. The chapters cover the latest preclinical studies aiming to understand the pathophysiology of LID at the cellular, neurochemical, neurophysiological and circuitry level with detailed discussion of mechanisms and future directions to take the field forward; clinical studies from phase II to phase IV; on going RCTs in LID and evidence-based medicine reviews of treatment options. Levodopa-Induced Dyskinesia in Parkinson's Disease is aimed at an international audience of movement disorder neurologists; neuroscientists; trainees and graduate and post-graduate students. Click here for more details For more books concerning Parkinson's Disease go to Parkinson's Disease books For more news go to Parkinson's Disease News

E-MAIL NOTIFICATION : If you would like to be notified by e-mail when any new articles are added to Parkinson's Disease News, please merely e-mail [email protected] with the message "subscribe". No form of identity is required. E-mail addresses are not used for any other purpose.