Parkinson's Disease News covers all significant new research, reports, books, and resources concerning Parkinson's Disease. Articles are chosen on the basis of their medical significance or potential interest. Our overwhelming priority is the facts, regardless of whether they contradict prevailing views or vested interests. Analysis and further information are provided either to explain the background or implications, or to balance misleading claims. If you notice errors or inadequacies, or dispute what is written, or want to propose articles, please e-mail [email protected].









25th September 2014 - New Audiobook
PUT ON YOUR PARKY FACE ! THE EXPANDED VERSION
Bill Schmalfeldt
CLICK HERE

FOR A PRINTABLE OR WHITE BACKGROUND VERSION OF THIS ARTICLE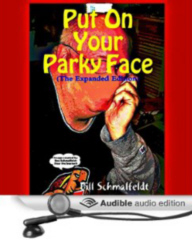 Publisher's description : Put on your Parky face is a narrated Audiobook about Parkinson's Disease by widely known Parkinson's Disease blogger Bill Schmalfeldt. Bill is serving notice. It's time for Parkinson's disease patients to stop being invisible. It's time for a nationwide effort to raise awareness about this crippling degenerative neurological disorder and the havoc it wreaks. Having had Parkinson's Disease since 2000 at the age of 45, Bill volunteered for experimental brain surgery in 2007. He spins a humorous, poignant, and sometimes angry tale about his life with this progressive neurological condition. He uses his time, focus and energy to help fund the research that will find the cure. 100% of the author proceeds from this book will be donated to Parkinson's research charities. On the web site there is a good audio sample. Click here for more details For more news go to Parkinson's Disease News

E-MAIL NOTIFICATION : If you would like to be notified by e-mail when any new articles are added to Parkinson's Disease News, please merely e-mail [email protected] with the message "subscribe". No form of identity is required. E-mail addresses are not used for any other purpose.