Parkinson's Disease News covers all significant new research, reports, books, and resources concerning Parkinson's Disease. Articles are chosen on the basis of their medical significance or potential interest. Our overwhelming priority is the facts, regardless of whether they contradict prevailing views or vested interests. Analysis and further information are provided either to explain the background or implications, or to balance misleading claims. If you notice errors or inadequacies, or dispute what is written, or want to propose articles, please e-mail [email protected].









8th September 2014 - News release
SUBCUTANEOUS LIQUID L-DOPA FOR PARKINSON'S DISEASE
CLICK HERE

FOR A PRINTABLE OR WHITE BACKGROUND VERSION OF THIS ARTICLE
NeuroDerm have announced that the first patients with severe Parkinson's Disease have been enrolled and dosed in a Phase IIa trial of ND0612H. ND0612H is a high-dose form of liquid L-dopa and carbidopa (which is the same as Sinemet) but which is delivered continuously through subcutaneous administration (via the skin) by a belt-pump. Unlike the most comparable methods of administering L-dopa, no surgery at all is needed.

ND0612H is intended to replace current treatments for people with severe Parkinson's Disease that require highly invasive surgery that is associated with serious side effects.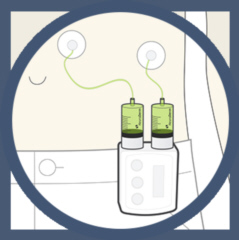 ND0612L is the low dose drug form intended for moderate Parkinson's Disease. ND0612L has just completed patient enrolment and treatment in a Phase II double-blind, randomised, placebo-controlled study. ND0612L was shown in previous phase I and phase IIa studies to be safe and tolerable, reaching steady state, clinically meaningful L-dopa blood concentrations.

ND0612L and ND0612H are the first liquid formulations of L-dopa and carbidopa to be administered subcutaneously (via the skin) to conveniently achieve steady state L-dopa plasma levels. L-dopa and carbidopa are otherwise nearly always administered orally, which can cause motor fluctuations and non-motor complications in Parkinson's Disease. For more information go to NeuroDerm For more news go to Parkinson's Disease News

E-MAIL NOTIFICATION : If you would like to be notified by e-mail when any new articles are added to Parkinson's Disease News, please merely e-mail [email protected] with the message "subscribe". No form of identity is required. E-mail addresses are not used for any other purpose.