Parkinson's Disease News covers all significant new research, reports, books, and resources concerning Parkinson's Disease. Articles are chosen on the basis of their medical significance or potential interest. Our overwhelming priority is the facts, regardless of whether they contradict prevailing views or vested interests. Analysis and further information are provided either to explain the background or implications, or to balance misleading claims. If you notice errors or inadequacies, or dispute what is written, or want to propose articles, please e-mail [email protected].









23rd July 2014 - News release
APOMORPHINE CLINICAL TRIAL FOR PARKINSON'S DISEASE

Clinical trials are being undertaken of APL-130277, which is an easy-to-administer, fast acting reformulation of the dopamine agonist apomorphine. Apomorphine is the only approved drug for "off" episodes. As many as half of all people with Parkinson's Disease have "off" episodes in which they have impaired movement or speaking capabilities.

Apomorphine is normally sold as Apokyn, which is injectable. For more information go to Apokyn However, 85% of Apokyn patients have an injection site reaction due to apomorphine's acidity and so must continuously change the injection site. APL-130277 contains a buffer that protects the patient from the acidic properties of Apokyn.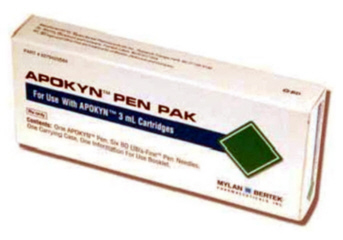 CTH-105 is a Phase 2 clinical study of APL-130277. APL-130277 will be studied in 16 people with Parkinson's disease who have not used apomorphine and who experience at least one daily "off" episode, with a total duration of "off" in any 24-hour period of at least 2 hours. This open study will examine the effect of APL-130277 on relieving "off" episodes over a single day, with dose-titration used to determine dose strengths necessary for future clinical use.
In particular, the dose strength information is necessary in order to conduct the larger CTH-300a efficacy study in apomorphine naive patients, which is expected to commence at the end of 2014. The primary means of assessment will be the change in the UPDRS III score, which is the most widely used Parkinson's Disease symptom questionnaire. For more information go to Cynapsus For more news go to Parkinson's Disease News.
FOR A PRINTABLE OR WHITE BACKGROUND VERSION OF THIS ARTICLE
CLICK HERE

E-MAIL NOTIFICATION : If you would like to be notified by e-mail when any new articles are added to Parkinson's Disease News, please merely e-mail [email protected] with the message "subscribe". No form of identity is required. E-mail addresses are not used for any other purpose.