Parkinson's Disease News covers all significant new research, reports, books, and resources concerning Parkinson's Disease. Articles are chosen on the basis of their medical significance or potential interest. Our overwhelming priority is the facts, regardless of whether they contradict prevailing views or vested interests. Analysis and further information are provided either to explain the background or implications, or to balance misleading claims. If you notice errors or inadequacies, or dispute what is written, or want to propose articles, please e-mail [email protected].









10th July 2014 - New research
ß-ASARONE INCREASES L-DOPA IN PARKINSON'S DISEASE

Clinical and Experimental Pharmacology and Physiology [2014] Jun 7 [Epub ahead of print] (L.Huang, M.Deng, S.Zhang, Y.Fang, L.Li) Complete abstract
In order to increase the effect of L-dopa it is usually administered in combination with a dopa decarboxylase inhibitor. In Sinemet, L-dopa is combined with carbidopa. In Madopar, L-dopa is combined with benserazide. The co-administration of ß-asarone and Levodopa is being developed as a means of improving the effect of L-dopa even further.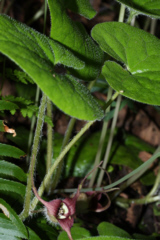 ß-asarone is found in the flowering plant acorus and also in asarum, which is known as wild ginger. For more information go to Ansarone
In animal studies the use of L-dopa in combination with ß-asarone was compared to the use of existing methods of treating Parkinson's Disease. Dopamine levels were found to increase in the brain (in the striatum) and in blood plasma in response to ß-asarone. The co-administration of ß-asarone and L-dopa could also increase the levels in blood plasma of tyrosine hydroxylase, which is the enzyme responsible for the formation of L-dopa. Altogether, ß-asarone was found to have an effect on converting L-dopa into dopamine by modulating the activity of dopamine metabolism.

The mechanism of co-administration of ß-asarone and L-dopa is different from that of Sinemet and Madopar in the treatment of Parkinson's Disease. The co-administration of ß-asarone and L-dopa may be more beneficial to Parkinson's Disease treatment than the existing methods and so could eventually replace them. For more news go to Parkinson's Disease News.
FOR A PRINTABLE OR WHITE BACKGROUND VERSION OF THIS ARTICLE
CLICK HERE

E-MAIL NOTIFICATION : If you would like to be notified by e-mail when any new articles are added to Parkinson's Disease News, please merely e-mail [email protected] with the message "subscribe". No form of identity is required. E-mail addresses are not used for any other purpose.