Parkinson's Disease News covers all significant new research, reports, books, and resources concerning Parkinson's Disease. Articles are chosen on the basis of their medical significance or potential interest. Our overwhelming priority is the facts, regardless of whether they contradict prevailing views or vested interests. Analysis and further information are provided either to explain the background or implications, or to balance misleading claims. If you notice errors or inadequacies, or dispute what is written, or want to propose articles, please e-mail [email protected].









9th June 2014 - New research
FAHR'S SYNDROME IS A CAUSE OF PARKINSON'S DISEASE
Journal of the College of Physicians and Surgeons - Pakistan [2014] 24 (5) : S104-S106 (N.Dildar, H.Akram, I.M.Qasmi, M.N.Qureshi, S.Khan) Complete abstract
Fahr's Syndrome is a rare inherited neurological disorder that can present with a wide spectrum of symptoms, including those of Parkinson's Disease. It is characterised by abnormal deposits of calcium in areas of the brain that control movement, including the basal ganglia and the cerebral cortex. For more information go to Fahr's Syndrome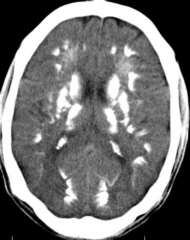 Symptoms of Fahr's Syndrome that are similar to those of Parkinson's Disease may include deterioration of motor function, dementia, dysarthria (poorly articulated speech), tremors, muscle rigidity, a mask-like facial appearance, shuffling gait, and a "pill-rolling" motion of the fingers. These symptoms generally occur later in the development of the disease.
More common symptoms of Fahr's Syndrome include dystonia (disordered muscle tone) and chorea (involuntary, rapid, jerky movements). The age of onset of Fahr's Syndrome is typically in the 40s or 50s, which is similar to Parkinson's Disease, although it can also occur at any time in childhood or adolescence.
Due to the possible similarity of symptoms to those of Parkinson's Disease, Fahr's Syndrome should be considered as an important differential diagnosis in cases of Parkinsonism. For more news go to Parkinson's Disease News.
FOR A PRINTABLE OR WHITE BACKGROUND VERSION OF THIS ARTICLE
CLICK HERE

E-MAIL NOTIFICATION : If you would like to be notified by e-mail when any new articles are added to Parkinson's Disease News, please merely e-mail [email protected] with the message "subscribe". No form of identity is required. E-mail addresses are not used for any other purpose.