Parkinson's Disease News covers all significant new research, reports, books, and resources concerning Parkinson's Disease. Articles are chosen on the basis of their medical significance or potential interest. Our overwhelming priority is the facts, regardless of whether they contradict prevailing views or vested interests. Analysis and further information are provided either to explain the background or implications, or to balance misleading claims. If you notice errors or inadequacies, or dispute what is written, or want to propose articles, please e-mail [email protected].









15th April 2014 - New research
GOOGLE GLASS BEING TESTED FOR PARKINSON'S DISEASE
Newcastle University are investigating Google Glass as an assistive aid in order to help people with Parkinson's Disease retain their independence for longer.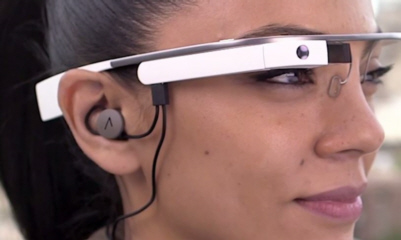 Glass is a wearable computer being developed by Google. At first glance Glass appears to be no more than a pair of designer glasses. However, the system works like a hands-free smartphone that displays visual information on the lens of the Glass.
The technology is voice-operated and is also linked to the internet. It is not currently available outside the USA. For more information go to a review of Google Glass
Researchers have been working with a group of Parkinson's Disease volunteers aged between 46-70 years. They are working on the next stage of the project, using the technology to provide discreet prompts linked to key behaviours typical of Parkinson's Disease, such as reminding the individual to speak up or to swallow to prevent drooling. Glass can also be used as a personal reminder for things such as taking medication and making appointments. Glass is connected to the internet so that the wearer can link it to computers and mobile phones. So if the wearer is alone they just have to look through the Glass so that carers or relatives will be able to see exactly where they are. The wearer can also tell it to call someone and it rings them. For more information go to Newcastle University For more news go to Parkinson's Disease News.
FOR A PRINTABLE OR WHITE BACKGROUND VERSION OF THIS ARTICLE
CLICK HERE

E-MAIL NOTIFICATION : If you would like to be notified by e-mail when any new articles are added to Parkinson's Disease News, please merely e-mail [email protected] with the message "subscribe". No form of identity is required. E-mail addresses are not used for any other purpose.