Parkinson's Disease News covers all significant new research, reports, books, and resources concerning Parkinson's Disease. Articles are chosen on the basis of their medical significance or potential interest. Our overwhelming priority is the facts, regardless of whether they contradict prevailing views or vested interests. Analysis and further information are provided either to explain the background or implications, or to balance misleading claims. If you notice errors or inadequacies, or dispute what is written, or want to propose articles, please e-mail [email protected].









13th January 2014 - New research
PROSAVIN CLINICAL TRIAL RESULTS FOR PARKINSON'S DISEASE
The Lancet, Early Online Publication, 10 January 2014 (S.Palfi, J.M.Gurruchaga, G.S.Ralph, H.Lepetit, et al) Complete abstract
ProSavin uses LentiVector gene delivery technology to deliver genes they suggest are required for the formation of dopamine. The product is administered locally to the relevant region of the brain in order to increase the brain's own capacity for the formation of dopamine. For more information go to Prosavin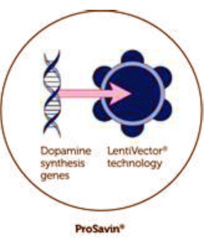 A clinical trial assessed the safety and efficacy of ProSavin after bilateral injection into the brains of 15 people who had Parkinson's Disease for more than 5 years. Three doses were assessed : low dose, mid dose and high dose. During the first 12 months 54 drug-related adverse events were reported (51 mild and 3 moderate). The most common adverse events were increased dyskinesias (in 11 out of 15 patients) and on-off phenomena (in 9 out of 15 patients). No serious adverse events related to the study drug or surgical procedure were reported. There was a moderate improvement in Parkinson's Disease symptom scores after 6 months and 12 months. However, in a previous study moderate improvements started declining after only 6 months. For more news go to Parkinson's Disease News.

E-MAIL NOTIFICATION : If you would like to be notified by e-mail when any new articles are added to Parkinson's Disease News, please merely e-mail [email protected] with the message "subscribe". No form of identity is required. E-mail addresses are not used for any other purpose.