Parkinson's Disease News covers all significant new research, reports, books, and resources concerning Parkinson's Disease. Articles are chosen on the basis of their medical significance or potential interest. Our overwhelming priority is the facts, regardless of whether they contradict prevailing views or vested interests. Analysis and further information are provided either to explain the background or implications, or to balance misleading claims. If you notice errors or inadequacies, or dispute what is written, or want to propose articles, please e-mail [email protected].









LOW RESOLUTION VERSION : There is a low resolution version of this web page FOR THOSE PEOPLE THAT EITHER : use 800x600 resolution on their monitors, or have eyesight difficulties, or have slow INTERNET SPEEDS GO TO LOW RESOLUTION VERSION
31st October 2013 - News release
SENSORY PEN FOR DETECTING PARKINSON'S DISEASE
A means of diagnosing Parkinsonís Disease is being developed by MANUS Neurodynamica using sensory pen technology. It is called the DiPAR project. The system, combining sensor and computing technology, requires the patient to perform a set of writing tasks, drawing activities or a combination of both. The system records all movements of the pen as well as other parameters such as drawing pressure, plus acceleration and deceleration of movement, to identify patterns that are indicative of specific kinds of neuromotor disorder. The sensory pen can be used by non-specialists with minimal training so that large numbers of people would be able to be screened.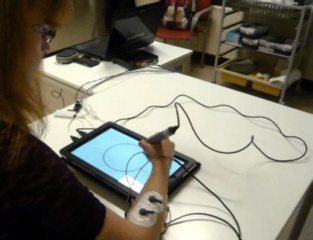 The systemís software records key features regarding the movement of the pen, relating it to the motion of the limb, particularly the role of the hand and fingers in coordinating overall pen motion. The recordings enable the operator to assess akinesia, bradykinesia, tremor, rigidity and other signs of motor deterioration that cannot be easily detected by other means. The software takes inputs from a variety of sensors in the pen and converts them, using proprietary algorithms, into outcome percentages that represent the likelihood of the presence of Parkinson's Disease or other neuromotor disorders. The method can be viewed in this brief video video of sensory pen technology. For more news go to Parkinson's Disease News.

E-MAIL NOTIFICATION : If you would like to be notified by e-mail when any new articles are added to Parkinson's Disease News, please merely e-mail [email protected] with the message "subscribe". No form of identity is required. E-mail addresses are not used for any other purpose.