Parkinson's Disease News covers all significant new research, reports, books, and resources concerning Parkinson's Disease. Articles are chosen on the basis of their medical significance or potential interest. Our overwhelming priority is the facts, regardless of whether they contradict prevailing views or vested interests. Analysis and further information are provided either to explain the background or implications, or to balance misleading claims. If you notice errors or inadequacies, or dispute what is written, or want to propose articles, please e-mail [email protected].









13th October 2013 - New research
THE LONG TERM EFFECT OF DBS ON PARKINSON'S DISEASE
Journal of the Formosan Medical Association [2013] Oct 5 [Epub ahead of print] (J.L.Jiang, S.Y.Chen, T.C.Hsieh, C.W.Lee, S.H.Lin, S.T.Tsai) Complete abstract

Deep Brain Stimulation (DBS) involves the use of electrodes that are implanted into the brain and connected to a small electrical device called a pulse generator that can be externally programmed. For more information go to Deep brain stimulation Subthalamic nucleus deep brain stimulation (STN-DBS) has been shown to produce long-term improvements in Parkinson's Disease.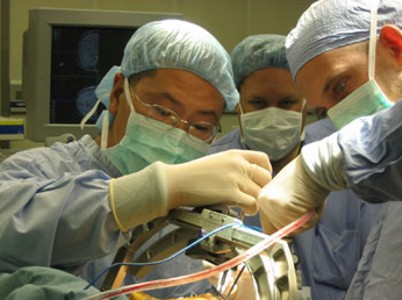 The aim of this study was to assess the improvements that can be expected after 1 year and after 5 years. Patients with Parkinson's Disease were assessed after 1 year and 5 years according to the Unified Parkinson's disease rating scale (UPDRS) parts I, II, III, and IV scores, the Hoehn and Yahr stage, and Schwab and England activities of daily living (SEADL) scores in the conditions of off-medication/on-stimulation and off-medication/off-stimulation. Further analysis included the changes in the L-dopa equivalent daily dose.
After 1 year significant improvements were seen in the UPDRS parts I, II, III, and IV and the Schwab and England scale. Five years after STN-DBS had been initiated improvements in UPDRS scores were observed only for parts II, III, and IV. In the off-medication/off-stimulation condition no significant improvement was observed. However, after 5 years there were significant deteriorations when compared to the improvements seen after 1 year in the scores for the UPDRS parts I, II, III and the Schwab and England scale. Therefore, after the improvement experienced after 1 year the long term trend is downwards. For a printable version of this article click here. For more news go to Parkinson's Disease News.