Parkinson's Disease News covers all significant new research, reports, books, and resources concerning Parkinson's Disease. Articles are chosen on the basis of their medical significance or potential interest. Our overwhelming priority is the facts, regardless of whether they contradict prevailing views or vested interests. Analysis and further information are provided either to explain the background or implications, or to balance misleading claims. If you notice errors or inadequacies, or dispute what is written, or want to propose articles, please e-mail [email protected].









21st September 2013 - New research
COFFEE INTAKE AND THE RISK OF DYSKINESIA
Movement Disorders [2013] 28 (3) : 380-383 (A.M.Wills, S.Eberly, M.Tennis, A.E.Lang, S.Messing, D.Togasaki, C.M.Tanner, C.Kamp, J.F.Chen, D.Oakes, M.P.McDermott, M.A.Schwarzschild) Complete abstract

Caffeine is a naturally occurring adenosine antagonist that is commonly found in coffee, and to a lesser extent in tea, cola drinks, cocoa, and chocolate. Adenosine antagonists reduce or prevent the development of dyskinesia in animal models of L-dopa induced dyskinesia.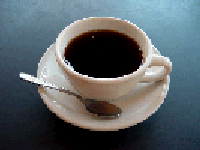 Researchers examined the association between the intake of caffeine and the time taken to develop dyskinesia. Those people who consumed 12 ounces of coffee per day, which is about two cups, reduced their likelihood of developing dyskinesia to 61%. Those people who consumed 4 to 12 ounces of coffee per day, which is less than two cups per day, reduced their likelihood of developing dyskinesia to 73%. The authors suggest tha these results support the possibility that caffeine may reduce the likelihood of developing dyskinesia. For a printable version of this article click here.

For more news go to Parkinson's Disease News.