Parkinson's Disease News covers all significant new research, reports, books, and resources concerning Parkinson's Disease. Articles are chosen on the basis of their medical significance or potential interest. Our overwhelming priority is the facts, regardless of whether they contradict prevailing views or vested interests. Analysis and further information are provided either to explain the background or implications, or to balance misleading claims. If you notice errors or inadequacies, or dispute what is written, or want to propose articles, please e-mail [email protected].









7th July 2013
THE MODIFIED RANKIN SCALE FOR ASSESSING PARKINSON'S DISEASE
Journal of Clinical Neuroscience [2013] Jun 26 [Epub ahead of print] (T.Simuni, S.T.Luo, K.L.Chou, H.Fernandez, B.He, S.Parashos) Complete abstract
An exploratory analysis was conducted in to the use of the modified Rankin Scale (mRS) as a global measure of disability in early Parkinson's Disease. For more information go to the Modified Rankin Scale The mRS assesses the level of disability caused by neurological disorders. It is scored 0-6 with lower scores reflecting less disability :
0 - No symptoms 1 - No significant disability : Able to carry out all usual activities, despite some symptoms.
2 - Slight disability : Able to look after own affairs without assistance, but unable to carry out all previous activities.
3 - Moderate disability : Requires some help, but able to walk unassisted.
4 - Moderately severe disability : Unable to attend to bodily needs without assistance. Unable to walk unassisted.
5 - Severe disability : Requires constant nursing care and attention, bedridden, incontinent.
6 - Dead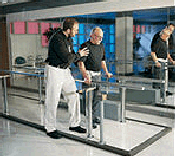 The association of the Modified Rankin Scale was compared with Parkinson's Disease related assessments : the Unified Parkinson Disease Rating Scale (UPDRS), cognitive function characterized by the Symbol Digit Modalities - verbal, Scales for Outcomes in Parkinson's disease - cognition (SCOPA-COG), quality of life (Parkinson's disease questionnaire (PDQ-39), EuroQOL, Beck Depression Inventory II (BDI), and Total Functional Capacity (TFC). All of the measures except SCOPA-COG had a significant association with the modified Rankin Scale thereby demonstrating its significance to Parkinson's Disease. For a printable version of this article click here. For more news go to Parkinson's Disease News.

E-MAIL NOTIFICATION : If you would like to be notified by e-mail when any new articles are added to Parkinson's Disease News, please merely e-mail [email protected] with the message "subscribe". No form of identity is required. E-mail addresses are not used for any other purpose.