Parkinson's Disease News covers all significant new research, reports, books, and resources concerning Parkinson's Disease. Articles are chosen on the basis of their medical significance or potential interest. Our overwhelming priority is the facts, regardless of whether they contradict prevailing views or vested interests. Analysis and further information are provided either to explain the background or implications, or to balance misleading claims. If you notice errors or inadequacies, or dispute what is written, or want to propose articles, please e-mail [email protected].









4th July 2013 - New research
THE EFFECT OF DEEP BRAIN STIMULATION (DBS) ON PARKINSON'S DISEASE
Ideggyogy Sz. [2013] 66 (3-4) : 115-120 (G.Tamás, A.Takáts, P.Radics, I.Rózsa, E.Csibri, G.Rudas, P.Golopencza, L.Entz, D.Fabó, L.Eross) Complete abstract
Researchers assessed the effect of Deep Brain Stimulation (DBS) on the different types of symptoms experienced in Parkinson's Disease. Deep Brain Stimulation (DBS) involves the use of electrodes that are implanted into the brain and connected to a small electrical device called a pulse generator that can be externally programmed. DBS requires careful programming of the stimulator device. For more information go to Deep brain stimulation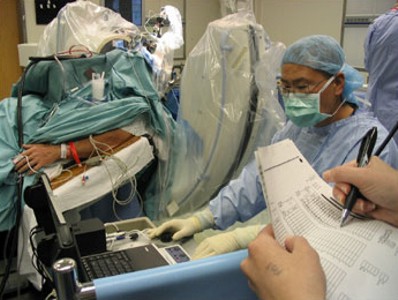 The major Parkinson's Disease symptom score (the Unified Parkinson's Disease Rating Scale) decreased by 70%. Patient condition improved according to the Hoehn-Yahr scale, approximately by two stages. Twelve hours after the withdrawal of Parkinson's Disease drugs execution of daily activity improved by 57% and motor functions developed by 79%. Duration of dyskinesias decreased by 62%. Duration of akinesia (loss of movement) diminished by 87%. Quality of life rose by 41%. Neuropsychological tests detected improvement in verbal memory. The dosage of Parkinson's Disease drugs could be reduced by 63% after the operation had been completed.

They concluded that, with Deep Brain Stimulation and by careful patient selection, the dosage of Parkinson's Disease drugs could be significantly reduced with considerable improvements in motor function and quality of life. For a printable version of this article click here. For more news go to Parkinson's Disease News.

E-MAIL NOTIFICATION : If you would like to be notified by e-mail when any new articles are added to Parkinson's Disease News, please merely e-mail [email protected] with the message "subscribe". No form of identity is required. E-mail addresses are not used for any other purpose.