Parkinson's Disease News covers all significant new research, reports, books, and resources concerning Parkinson's Disease. Articles are chosen on the basis of their medical significance or potential interest. Our overwhelming priority is the facts, regardless of whether they contradict prevailing views or vested interests. Analysis and further information are provided either to explain the background or implications, or to balance misleading claims. If you notice errors or inadequacies, or dispute what is written, or want to propose articles, please e-mail [email protected].









13th June 2013 - New research
THE EFFECT OF PRAMIPEXOLE ON PARKINSON'S DISEASE
Lancet Neurology [2013] May 30 [Epub ahead of print] (A.H.Schapira, M.P.McDermott, P.Barone, C.L.Comella, S.Albrecht, H.H.Hsu, D.H.Massey, Y.Mizuno, W.Poewe, O.Rascol, K.Marek) Complete abstract
The Pramipexole On Underlying Disease (PROUD) study was designed to identify whether or not early versus delayed pramipexole initiation has clinical benefits in people with Parkinson's Disease. Pramipexole, which is sold as Mirapex, Mirapexin and Sifrol, is a dopamine agonist used for treating early-stage Parkinson's Disease. For more information go to Mirapex.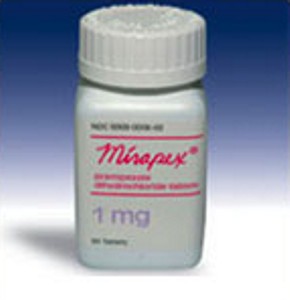 People taking pramipexole were given 1.5mg pramipexole per day. The average difference in Parkinson's Disease symptom scores (the UPDRS) showed no significant difference between early and delayed pramipexole. Fifteen months of use showed no benefit when compared to the use of pramipexole being delayed for 6 to 9 months. Over 80% of people who took pramipexole reported adverse events, with 81% of those given early pramipexole and 84% of those given delayed pramipexole. The most frequent adverse event was nausea. Serious adverse events were reported by 10% of people in the early pramipexole group and 8% in the delayed pramipexole group. The authors conclude that the results do not support the hypothesis that pramipexole has disease-modifying effects. For a printable version of this article click here. For more news go to Parkinson's Disease News.

E-MAIL NOTIFICATION : If you would like to be notified by e-mail when any new articles are added to Parkinson's Disease News, please merely e-mail [email protected] with the message "subscribe". No form of identity is required. E-mail addresses are not used for any other purpose.