Parkinson's Disease News covers all significant new research, reports, books, and resources concerning Parkinson's Disease. Articles are chosen on the basis of their medical significance or potential interest. Our overwhelming priority is the facts, regardless of whether they contradict prevailing views or vested interests. Analysis and further information are provided either to explain the background or implications, or to balance misleading claims. If you notice errors or inadequacies, or dispute what is written, or want to propose articles, please e-mail [email protected].









3rd May 2013 - New research
IS GENERIC MADOPAR AS GOOD AS MADOPAR ?
BMC Pharmacology and Toxicology [2013] 14 (1) : 24 (U.E.Gasser, A.Fischer, J.P.Timmermans, I.Arnet) Complete abstract
Madopar was compared against seven generic versions of Madopar to see if they were as good as Madopar. Madopar, which is for the treatment of Parkinson's Disease consists of L-dopa and benserazide, which helps to prevent the breakdown of L-dopa before it is made use of. It is therefore the equivalent of Sinemet. Madopar and Sinemet differ according to which countries they are available in. For more information go to Madopar. A generic version is supposed to be interchangeable. However, generic versions are often different from the original.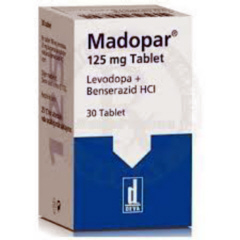 Every one of the seven generic versions of Madopar had one or two parameters outside the specifications of Madopar. Deviations for the active ingredients ranged from 8% more benserazide to 7% less L-dopa in two of the tablet formulations. Degradation products were measured in marked excess (26% more) in one capsule formulation, and so could pose a safety concern. Deviations for the active ingredients may go unnoticed by a new user of the generic product but may entail clinical consequences when switching over. The results suggest caution when prescribing a generic version of Madopar or any other generic. For a printable version of this article click here. For more news go to Parkinson's Disease News.

E-MAIL NOTIFICATION : If you would like to be notified by e-mail when any new articles are added to Parkinson's Disease News, please merely e-mail [email protected] with the message "subscribe". No form of identity is required. E-mail addresses are not used for any other purpose.